Are you looking to create a stunning business, blog, or portfolio website? In today's digital age, having a professional website is crucial for establishing an online presence and attracting potential customers. You can be something other than a coding expert to build a beautiful website. Website builders are powerful tools that enable anyone to create and customize their websites regardless of their technical skills. In this article, we'll explore the best website builders available and guide you in choosing the perfect one for your needs.
Top Website Builders in the Market
Now that we know what to look for, let's explore some of the best website builders available today. These builders have gained popularity due to their user-friendly interfaces, robust features, and overall customer satisfaction.
| | | | | | |
| --- | --- | --- | --- | --- | --- |
| Number | Name | Image | Best For | Rating | Pricing |
| 1 | Elementor | | Customization & Blogging | 4.7 | Free to $49/month |
| 2 | SiteGround | | E-commerce | 4.5 | $6.99 to $14.99 |
| 3 | WPX | | Worpress Hosting | 4.2 | $20.83 to $83.25 |
| 4 | Hostinger | | Blogging | 4.0 | $1.39 to $4.99 |
| 5 | PageCloud | | Portfolio Sites | 3.8 | $20 to $50 |
| 6 | Site123 | | Beginners | 3.5 | Free to $12.80 |
| 7 | Powr.io | | Website Enhancements | 3.5 | Free to $49.99 |
| 8 | Domain.com | | Basic Websites | 3.5 | $1.99 to $12.99 |
| 9 | Subbly | | Subscription Box Sites | 3.0 | $29 to $199 |
| 10 | BugHerd | | Feedback & Bug Reporting | 2.5 | $39 to $249 |

Introduction
Elementor is a widely-used WordPress page builder that offers a drag-and-drop interface for creating and designing web pages. With a focus on flexibility, speed, and ease of use, Elementor caters to both beginners and developers, enabling them to create complex layouts without requiring coding expertise.
Main Features
Drag-and-Drop Editor: Intuitive interface that lets you drag elements onto your page.
Template Library: Pre-designed templates and blocks that can be imported and customized.
Responsive Design: Tools to ensure your site looks good on all devices.
Popup Builder: Create and design popups within the same environment.
Theme Builder: Allows you to customize headers, footers, and other parts of your website.
WooCommerce Builder: Special widgets and features to integrate WooCommerce elements into your site.
Dynamic Content: Use WordPress's custom fields to display dynamic content.
Pros
Ease of Use: Elementor's drag-and-drop interface is user-friendly and intuitive.
Flexibility: Highly customizable, offering a wide range of widgets and elements.
Performance: Lightweight and optimized for speed.
Regular Updates: Frequently updated with new features and improvements.
Extensive Template Library: Provides a wide variety of pre-made templates.
Cons
Cost: The free version is limited, and the pro version can be expensive for some users.
Complexity: The multitude of options can be overwhelming for complete beginners.
Compatibility: May not be compatible with all WordPress themes or plugins.
Pricing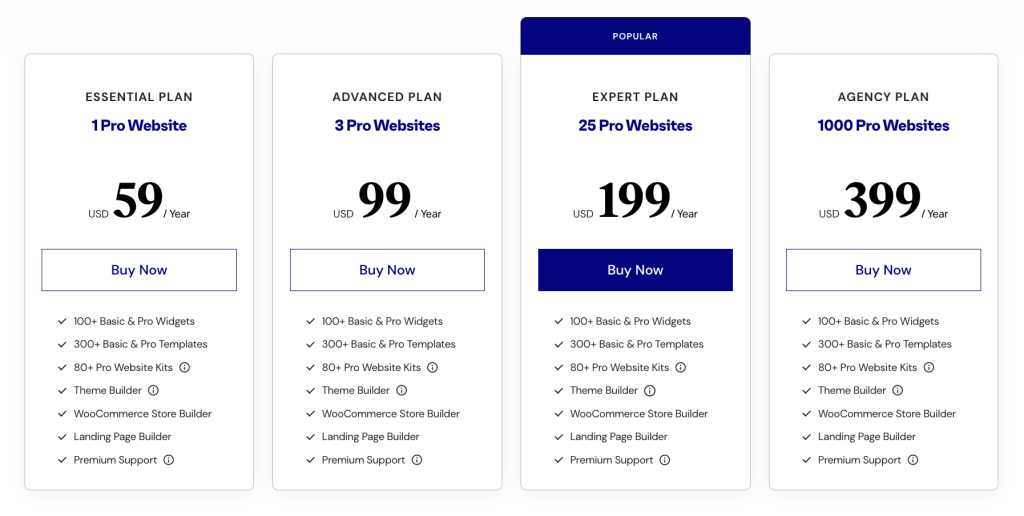 Summary
Elementor is a robust and flexible WordPress page builder suitable for users of all levels. Its user-friendly, drag-and-drop interface combined with an extensive range of features makes it a popular choice for web development. While the platform has a bit of a learning curve and the pro version can be costly, the advantages it offers in terms of design capabilities and ease of use make it a valuable tool for anyone looking to create or redesign a WordPress website.

Introduction
SiteGround is a web hosting company that offers a range of hosting solutions, including shared hosting, cloud hosting, and dedicated servers. Founded in 2004, the company has garnered a reputation for high performance and excellent customer support.
Main Features
Variety of Hosting Options: SiteGround offers shared, WordPress, WooCommerce, cloud, and dedicated hosting.
cPanel Access: An intuitive control panel for managing hosting settings.
SSD Storage: Faster data access and better performance.
Free SSL Certificate: Enhances website security.
Daily Backups: Automated daily backups for data protection.
99.9% Uptime Guarantee: Ensures your website is accessible most of the time.
24/7 Customer Support: Via live chat, phone, and ticketing system.
Content Delivery Network (CDN): Free Cloudflare CDN integration for faster website load times.
Pros
High Performance: SSD storage and the latest technologies ensure fast website loading times.
Strong Security Features: Free SSL, daily backups, and custom security solutions are included.
Excellent Customer Support: Quick and knowledgeable customer service.
Scalability: It is easy to upgrade hosting plans as your website grows.
Developer-Friendly: Offers features like Git integration, staging areas, and SSH access.
Cons
Higher Renewal Rates: Introductory prices are competitive, but renewal rates can be significantly higher.
Limited Storage: In lower-tier plans, storage can be a constraint.
Setup Fee for Monthly Billing: There's an additional fee if you opt for monthly billing instead of annual.
Pricing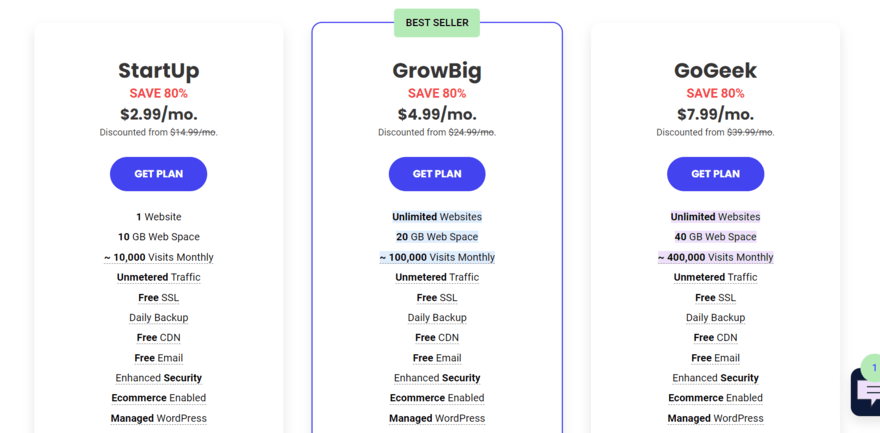 Summary
SiteGround offers a wide array of hosting solutions characterized by high performance, strong security features, and excellent customer service. While it has many advantages like scalability and developer-friendly features, it is not the cheapest option in the long term due to higher renewal rates. It's a solid choice for those looking for reliable and feature-rich web hosting services.

Introduction
WPX Hosting is a managed WordPress hosting provider that focuses exclusively on WordPress websites. Known for its blazing-fast speed, robust security features, and high-quality customer support, WPX Hosting is often recommended for businesses and professional bloggers who prioritize performance.
Main Features
WordPress-Optimized Hosting: Tailored specifically for WordPress websites.
High-Speed Custom CDN: WPX Cloud is their custom Content Delivery Network, designed for superior speed.
Free Website Migrations: WPX offers free and quick migration of existing websites.
Daily Backups: Automated daily backups are included.
Free SSL Certificates: For improved website security.
Staging Area: To test changes before making them live.
24/7 Customer Support: Known as WPX Support, it's available via live chat and email.
Malware Scanning & Removal: Robust security features to protect your site.
Pros
Outstanding Speed: Custom CDN and optimized servers ensure your website loads quickly.
Excellent Customer Support: Highly praised for their responsive and knowledgeable support team.
Security: Daily backups, free SSL, and malware scanning make it a secure option.
Simplicity: Focus on WordPress makes it easier to navigate and manage your site.
Unlimited Site Migrations: Free and unlimited website migrations are a significant advantage.
Cons
Price: Being a managed WordPress hosting provider, it's more expensive than general shared hosting.
WordPress Exclusive: Only suitable for WordPress websites, limiting your options if you plan to use other CMSs.
Limited Low-End Plans: The entry-level plan only allows hosting for two websites.
Pricing
Summary
WPX Hosting is a top-tier managed WordPress hosting service known for its exceptional speed, security, and customer support. While the service is excellent, it comes at a premium price and is designed exclusively for WordPress websites. If you're looking for high-performance WordPress hosting and are willing to pay for top-notch features and service, WPX Hosting is an excellent choice.

Introduction
Hostinger is a web hosting provider that aims to offer fast and affordable hosting solutions. Established in 2004, the company has built a reputation for its low-cost plans without compromising on essential features like speed and security. Hostinger appeals to a broad spectrum of users, from beginners to experienced webmasters.
Main Features
Multiple Hosting Options: Offers shared, cloud, and VPS hosting, as well as WordPress-specific plans.
hPanel: A custom and user-friendly control panel for managing your hosting.
SSD Storage: Faster and more reliable storage options.
Free SSL Certificate: Available in most plans for enhanced security.
LiteSpeed Cache: Speed optimization technology to improve website load times.
One-Click Installations: For popular applications like WordPress, Joomla, and others.
24/7 Customer Support: Available through live chat and tickets.
Pros
Affordability: One of the most budget-friendly hosting providers.
User-Friendly: The custom control panel is designed for ease of use.
Performance: Despite its low cost, Hostinger doesn't skimp on speed or reliability.
Scalability: Easy to upgrade or change hosting plans.
Global Presence: Data centers in multiple regions for better local performance.
Cons
No Daily Backups in Basic Plan: Daily backups are only available in higher-tier plans.
Limited Resources in Entry-Level Plans: Resource limitations may require you to upgrade for higher traffic.
No Free Domain in Basic Plan: Free domain registration is not included in the lowest-tier plan.
Pricing
Single Shared Hosting: Starts at $1.39/month, ideal for small, personal projects.
Premium Shared Hosting: Starts at $2.59/month, better for multiple websites and includes a free domain.
Business Shared Hosting: Starts at $3.99/month, comes with daily backups and more resources.
Summary
Hostinger offers a balance of low cost and good performance, making it an attractive option for those on a budget. With multiple hosting options and a user-friendly control panel, it provides an accessible platform for both beginners and experienced users. While it lacks some features in the lower-tier plans, its scalability allows for easy upgrades as your site grows. Overall, Hostinger is a strong choice for those seeking affordable, yet reliable web hosting.

Introduction
PageCloud is a website building platform that offers hosting as part of its package. Known for its intuitive drag-and-drop editor and a wide range of customization options, PageCloud aims to provide a comprehensive solution for both beginners and professionals who want to build unique, responsive websites without coding.
Main Features
Drag-and-Drop Editor: Highly flexible and customizable editor for building web pages.
Responsive Design: Automatically adjusts to different screen sizes and orientations.
Integrated Hosting: Hosting is included in all plans, offering a streamlined experience.
App Integrations: Allows easy integration with third-party apps like Shopify, Mailchimp, and others.
SEO Tools: Provides built-in tools to help with search engine optimization.
E-commerce Features: Allows you to build and manage an online store.
Customer Support: Offers support through live chat, email, and a robust knowledge base.
Pros
Highly Customizable: Almost limitless customization options compared to many other website builders.
Ease of Use: The drag-and-drop interface is intuitive, allowing quick website creation.
App Ecosystem: Supports a wide range of third-party integrations.
SEO-Friendly: Built-in SEO tools help improve search ranking.
All-in-One Platform: Combines website building and hosting, simplifying the process for users.
Cons
Price: Generally more expensive than other website builders with hosting.
Limited Free Trial: Offers a short free trial period, after which you must choose a paid plan.
Learning Curve: While easy to use, mastering all the customization options can take time.
Pricing
Standard Plan: Starts at $24/month, suitable for basic websites and personal portfolios.
Pro Plan: Starts at $65/month, designed for businesses and includes advanced e-commerce features.
Both plans include hosting, and you can save money by opting for annual billing.
Summary
PageCloud offers a highly customizable and integrated solution for website building and hosting. Its strong points lie in its flexibility, app integrations, and SEO features. While it offers a comprehensive, all-in-one service, the pricing is on the higher end, and there can be a learning curve to make full use of its wide range of features. It's a strong choice for those who prioritize customization and are willing to invest in a more premium service.

Introduction
Site123 is a web hosting provider that specializes in website building services, offering a platform that combines hosting and website creation tools. Designed with ease-of-use in mind, Site123 targets individuals, small businesses, and organizations that want to establish an online presence without a steep learning curve.
Main Features
Website Builder: Drag-and-drop interface for easy website creation.
Responsive Design: Templates are optimized for both desktop and mobile viewing.
E-commerce Capabilities: Offers built-in tools for creating an online store.
Free Hosting: Basic free hosting is available.
SEO Tools: Built-in SEO settings to optimize site visibility.
Multilingual Support: Allows the creation of websites in multiple languages.
24/7 Customer Support: Live chat support is available around the clock.
Pros
Ease of Use: Designed for users with little or no coding experience.
Quick Setup: You can set up a website in a matter of minutes.
All-in-One Solution: Combines hosting and website building in one platform.
E-commerce Ready: Provides tools for setting up an online store easily.
Customer Support: 24/7 live chat support for quick assistance.
Cons
Limited Customization: Less flexibility compared to more advanced website building platforms.
Cost for Advanced Features: Higher-tier plans can be pricey for the features they offer.
Limited Free Plan: Free plan has Site123 branding and lacks advanced functionalities.
Pricing
Free Plan: Limited features, but good for basic personal use with Site123 subdomain.
Basic Plan: Starts at $12.80/month, offers 10GB of bandwidth and 5GB storage.
Advanced Plan: Starts at $19.80/month, provides additional features like 2 mailboxes and 30GB of storage.
Professional Plan: Starts at $28.80/month, offers e-commerce features and 90GB storage.
Summary
Site123 offers an easy-to-use, all-in-one solution for website building and hosting, making it accessible for beginners. While its convenience is a strong point, the platform may not be suitable for those requiring extensive customization or more advanced features. Pricing can also escalate for access to additional functionalities. It's a fitting choice for users looking for simplicity and an all-in-one package, but may not satisfy the needs of more advanced users.

Introduction
POWR.io is a platform that offers a suite of website plugins designed to extend the functionality of websites across various platforms like WordPress, Shopify, and Wix. Rather than being a web hosting or website building service, POWR specializes in providing customizable plugins ranging from forms and galleries to social feeds and e-commerce buttons.
Main Features
Wide Range of Plugins: Offers over 60 different types of plugins.
Platform Agnostic: Works with most website builders and e-commerce platforms.
Customizable: Each plugin comes with a set of customization options to match your website's design.
Mobile Responsive: Plugins are designed to be mobile-friendly.
Analytics Features: Some plugins come with built-in analytics to measure engagement.
Multi-Language Support: Plugins can be translated into multiple languages.
Pros
Versatility: A broad variety of plugins meets various business needs, from lead capture to customer engagement.
Ease of Use: Most plugins are easy to install and configure, requiring no coding skills.
Compatibility: Works seamlessly with a wide array of website builders and CMS platforms.
Customization: The ability to customize the look and feel of the plugins allows for better brand consistency.
Scalability: Different pricing plans make it suitable for both small businesses and larger enterprises.
Cons
Limited Free Plans: Free versions of plugins often come with POWR branding and have limited features.
Performance Impact: Adding multiple plugins can sometimes slow down your website.
Cost Can Add Up: While individual plugins might be affordable, using multiple can become expensive.
Pricing

Summary
POWR.io is a versatile platform providing a comprehensive suite of plugins that are easy to install and highly customizable. It's compatible with a wide range of website builders and e-commerce platforms, making it a flexible choice for enhancing website functionality. However, the cost can add up if you require multiple plugins or advanced features, and overuse can potentially affect website performance. Overall, it's a useful tool for businesses looking to extend their website capabilities without much technical expertise.

Introduction
Domain.com is primarily known as a domain registration service but also offers a website builder as part of its portfolio. Targeting small businesses and individual users, the website builder provides basic tools for creating a web presence without requiring coding skills.
Main Features
Drag-and-Drop Editor: Allows easy placement and modification of website elements.
Template Selection: Offers a variety of industry-specific templates.
Mobile Responsiveness: Templates are designed to adapt to various screen sizes.
SEO Tools: Basic SEO settings for improving website visibility on search engines.
E-commerce Capabilities: Offers features to set up an online store.
Integrated Hosting: Provides hosting solutions as part of its website builder packages.
Pros
Simplicity: Ideal for users who are new to website building, thanks to its user-friendly interface.
All-in-One Solution: Combines domain registration, website building, and hosting in one platform.
Affordable: Offers competitive pricing, particularly for small businesses or personal use.
SEO Basics: Helps users get started on search engine optimization for their site.
Customer Support: Provides customer service through phone and live chat.
Cons
Limited Customization: Not as flexible as other specialized website builders when it comes to design and functionality.
Basic Features: While sufficient for small projects, it may not suit larger businesses with more complex needs.
Upselling Tactics: The platform often promotes add-on services, which can increase the overall cost.
Pricing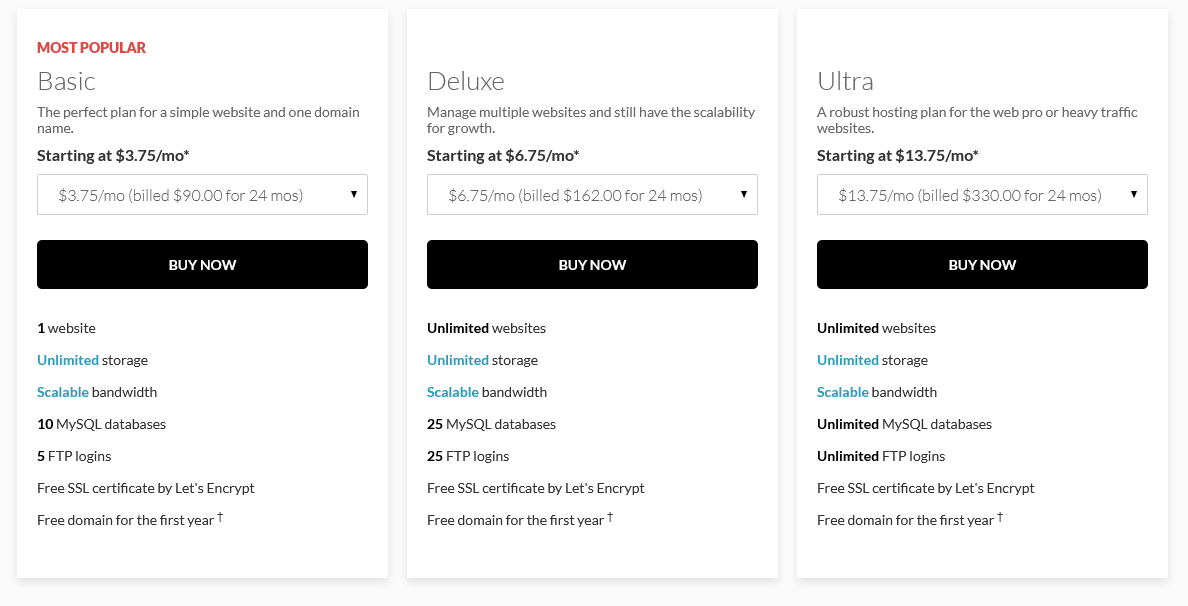 Summary
Domain.com's website builder is a straightforward tool aimed primarily at small businesses and individuals seeking an easy way to establish a web presence. It's an all-in-one platform that makes domain registration, website building, and hosting convenient. While it offers affordability and ease of use, it lacks the advanced features and customization options provided by specialized website builders. It's a solid choice for basic needs, but those requiring more intricate designs or functionalities may find it limiting.

Introduction
Subbly is an e-commerce platform specialized in subscription box businesses. It offers tools to manage subscriptions, payments, and customer relationships. It aims to simplify the process of launching and running a subscription-based business, targeting entrepreneurs, and small to medium-sized businesses.
Main Features
Subscription Management: Comprehensive tools for managing recurring billing and subscriptions.
Website Builder: A built-in drag-and-drop website builder for creating a customized online storefront.
Checkout Experience: Customizable checkout process to optimize conversions.
Payment Processing: Supports various payment gateways like Stripe and PayPal.
Customer Management: Tools for customer segmentation, communication, and relationship management.
Inventory Management: Helps in tracking stock levels and order fulfillment.
Pros
Niche Focus: Specializes in subscription box businesses, offering tailored features.
All-in-One Platform: Combines website building, subscription management, and customer relationship tools.
Flexibility: Allows customization in billing cycles, pricing models, and checkout experience.
Integrations: Supports integration with third-party apps and services for extended functionalities.
Customer Support: Provides extensive documentation and customer support through chat and email.
Cons
Learning Curve: The range of features may require time to master.
Pricing: Can be on the expensive side for businesses just starting out.
Limited Design Options: While it offers a website builder, it's not as comprehensive as specialized website design platforms.
Pricing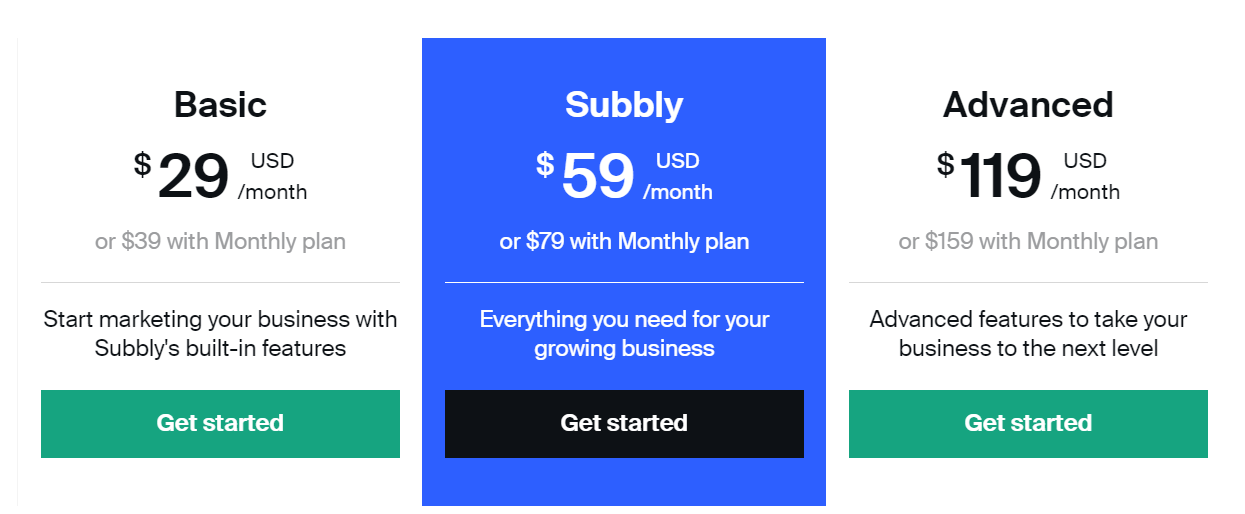 Summary
Subbly serves a niche market of subscription box businesses, offering an all-in-one solution for managing subscriptions, building a website, and customer relationship management. Its specialized focus makes it highly relevant for businesses in the subscription model, but this comes with a learning curve and a price point that may not be suitable for everyone

Introduction
BugHerd is a web-based project management and bug tracking tool designed specifically for web developers and designers. It allows team members to report issues directly on a web page, making the process of identifying, tracking, and resolving bugs easier and more efficient.
Main Features
Visual Feedback: Allows users to pin comments directly on website elements to report issues.
Task Management: Organizes reported issues into a kanban board for easier tracking and management.
Screenshot Capture: Automatically captures screenshots to give context to reported issues.
User Assignments: Enables tasks to be assigned to specific team members.
Integrations: Can be integrated with other project management and development tools like JIRA, Slack, and GitHub.
Browser Extension: Offers a browser extension for even quicker bug reporting without needing to log in to the main platform.
Pros
Intuitive Interface: The visual feedback mechanism makes it simple for even non-technical users to report bugs.
Efficient Collaboration: Facilitates better communication between developers, designers, and stakeholders.
Time-Saving: Streamlines the bug reporting and resolution process, saving time that would otherwise be spent on back-and-forths.
Contextual Information: Screenshots and pinned comments provide context, making it easier to identify issues.
Flexible Integrations: The ability to integrate with other tools enhances its functionality and fits into existing workflows.
Cons
Pricing: The cost can add up for larger teams or more complex projects.
Limited to Web Projects: Designed specifically for web-based projects, making it less suitable for other types of software development.
Initial Setup: Some users might find the initial setup and orientation to be a bit challenging.
Pricing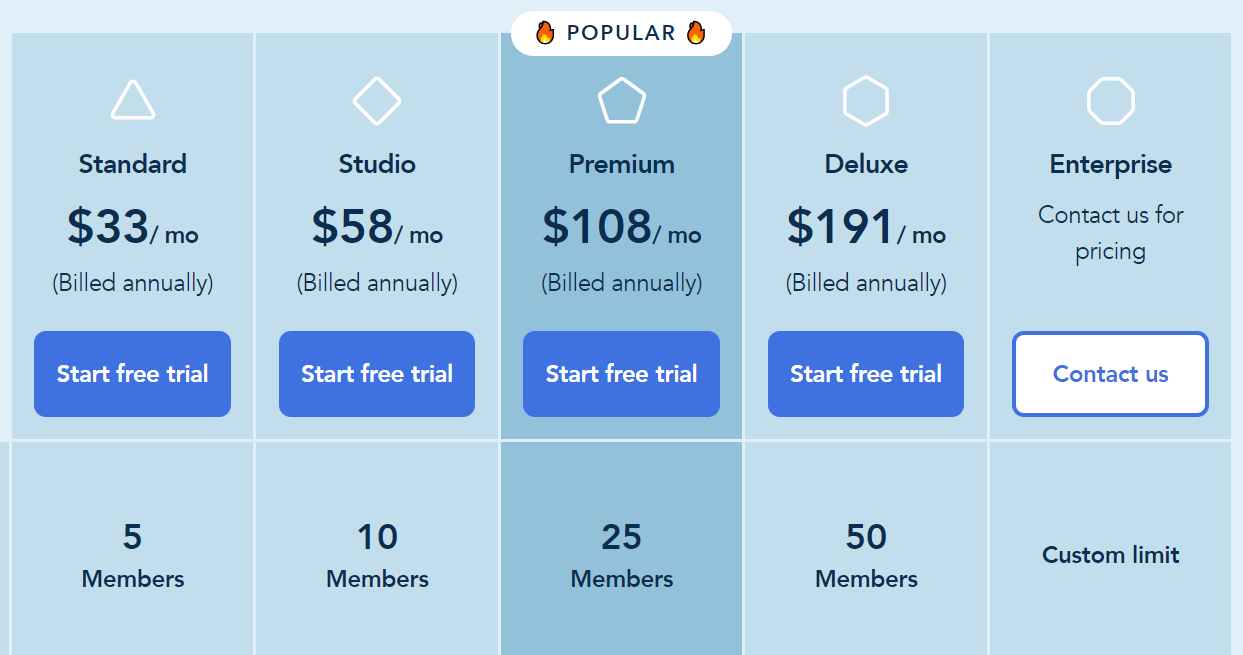 Summary
BugHerd offers a specialized solution for web development project management, particularly in the area of bug tracking. Its visual feedback system and integration capabilities make it an efficient tool for teams to identify and resolve issues quickly. While it offers valuable features that streamline the development process, its pricing and web-specific focus may not suit every organization. Overall, it is a strong platform for web developers and designers who want to improve collaboration and efficiency in their bug tracking and resolution process.
What to Look for in a Website Builder
Before diving into the world of website builders, it's essential to understand the key features and aspects to consider when selecting. Here are the top factors to keep in mind:
User-friendly interface
A user-friendly interface is essential for a smooth website-building experience. You can look for a builder with an intuitive drag-and-drop editor, allowing you to easily add and arrange elements on your web pages without coding knowledge.
Design customization options
Customizing your website's design is vital for creating a unique and visually appealing online presence. Opt for a website builder that provides a wide range of templates, color schemes, fonts, and the flexibility to modify layouts according to your preferences.
Mobile responsiveness
With most internet users accessing websites on mobile devices, it's crucial that your website looks great and functions seamlessly across different screen sizes. Please ensure the website builder offers responsive design features to optimize your site for mobile viewing.
SEO features
Search engine optimization (SEO) significantly improves your website's visibility in search engine results. You can look for a website builder with built-in SEO tools, such as customizable meta tags, URL structure optimization, and sitemap generation, to help boost your website's rankings.
E-commerce capabilities
If you plan to sell products or services online, choosing a website builder that supports e-commerce tools is essential. Look for features like integrated payment gateways, inventory management, secure checkout processes, and options for setting up product catalogs.
FAQs
1. Which is the best website builder?
The "best" website builder depends on your specific needs, such as the type of website you're creating, your technical skills, and your budget.
2. What is the most popular website builder in the world?
As of now, WordPress is the most popular website builder, powering over 40% of all websites on the internet.
3. Why is WordPress better than Wix?
WordPress offers more flexibility and customization options compared to Wix.
4. Is Wix the best website builder?
Wix is one of the best website builders for those who prioritize ease of use and drag-and-drop functionality.
5. What is the downside of Wix?
One downside of Wix is its limited customization options compared to other platforms like WordPress.
6. Is GoDaddy better than Wix?
GoDaddy is generally faster to set up but lacks the design flexibility and features that Wix provides.
7. Why is Shopify better than Wix?
Shopify is specifically designed for e-commerce and offers a range of specialized features for online selling.
8. Is Google Domain better than Wix?
Google Domain is a domain registration service and doesn't offer website building features.
9. Are Wix websites worth it?
Wix websites can be worth it for individuals and small businesses looking for an easy-to-use platform.
10. Does Wix own your content?
No, Wix does not own your content. According to their terms of service, the content you upload remains yours.
11. Can you make a professional website with Wix?
Yes, you can create a professional-looking website with Wix, especially if you use their premium templates and features.
12. Why do people prefer Wix?
People prefer Wix for its user-friendly interface, a wide range of templates, and the convenience of having hosting and domain registration in one place.
Related Articles:


Affiliate Disclosure:
I earn from qualifying purchases. This means that when you click on certain links on our website and purchase through Amazon, we may receive a small commission at no additional cost.