Introduction
Today's digital world requires a strong SEO strategy to succeed in digital marketing. SEO tools play a crucial role in achieving this. They streamline intricate SEO activities such as keyword research and backlink analysis while providing valuable data-driven insights to boost your website's ranking. This article aims to showcase the top SEO tools on the market and assist you in selecting the most suitable one for your requirements, whether you prioritize content optimization, technical SEO, or rank tracking.
What is SEO?
Search Engine Optimization (SEO) involves enhancing a website's visibility in search engine results. By optimizing your site, you help search engines like Google comprehend your page's content, making it more accessible to users. SEO is crucial for attracting valuable traffic and is typically categorized into On-page SEO, encompassing activities such as keyword research and content optimization, and Off-page SEO, which focuses on building backlinks and external signals to enhance your site's credibility.
What Are SEO Tools?
SEO tools are specialized software designed to help you with various SEO tasks. Whether you're conducting keyword research to find out what terms your audience is searching for, or analyzing backlinks to see who's linking to your site, SEO tools provide the crucial data you need. Some of the top-ranked SEO software options include Google Analytics, Ahrefs, and SEMrush, each offering a range of features from rank tracking to site audits.
Best SEO Tools - Table Of Contents
Number
Name
Image
Best For
Rating
Pricing
1
Surfer SEO
On-page optimization
4.5
69$ - 299$
/mo + custom
2
Serpstat
Keyword research, competitive analysis
4.4
50$ - 479$
/mo
3
Mangools
Keyword research,
rank tracking
4.3
19$ - 129$
/mo
4
SE Ranking
Rank tracking,
site audit
4.2
44$ - 239$
/mo
5
WhatConverts
Lead tracking,
conversion attribution
4.2
30$ - 1250$
/mo
6
Rankwizard AI
multiple articles
generation
4.1
49$ - 99$
/mo
7
Seobility
SEO audits
backlink checking
4.0
Free - 200$
/mo
8
Outranking IO
AI Content
creation & optimization
4.0
9$ - 199$
/mo
9
Serptimizer
On-page SEO
& content optimization
4.0
Free - 25$
/mo
10
GrowthBar
Keyword research, competitive analysis
3.9
29$ - 199$
/mo
11
Morningscore
SEO metrics, keyword tracking, link analysis
3.8
65$ - 237$
/mo
12
Scalenut
content creation
and optimization
3.7
19$ - 179$
/mo + custom
13
Getgenie
AI content writing
3.7
Free - 89$
/mo
14
Shineranker
SEO tool for
Google and Youtube
3.6
499$
/year
Best SEO Tools - Deeper Dive Into Each Tool

Introduction
Surfer SEO is a comprehensive SEO tool designed to help marketers, SEO professionals, and website owners optimize their web pages for higher search engine rankings. The platform provides on-page and off-page analysis to give actionable insights for improving SEO performance.
Main Features
SERP Analyzer: Surfer SEO offers a detailed analysis of the top-ranking pages for any keyword, providing insights into factors like backlinks, content quality, and more.
Keyword Research: This tool allows you to find relevant keywords and their associated search volumes and competition levels.
SEO Audit: Surfer SEO can automatically scan your website and provide you with an audit, pointing out SEO issues and suggestions for improvements.
Content Editor: With the built-in content editor, you can create SEO-friendly content using real-time suggestions based on competitors' performance.
Pros
User-Friendly: The interface is intuitive, making it easy for users of all skill levels to navigate.
In-Depth Analysis: Provides comprehensive data for making informed SEO decisions.
Competitive Analysis: Allows you to see how your site stacks up against competitors in real-time.
Cons
Price: The tool can be on the more expensive side for small businesses or individual users.
Learning Curve: While user-friendly, it may take some time to fully understand how to utilize all the features for maximum benefit.
Pricing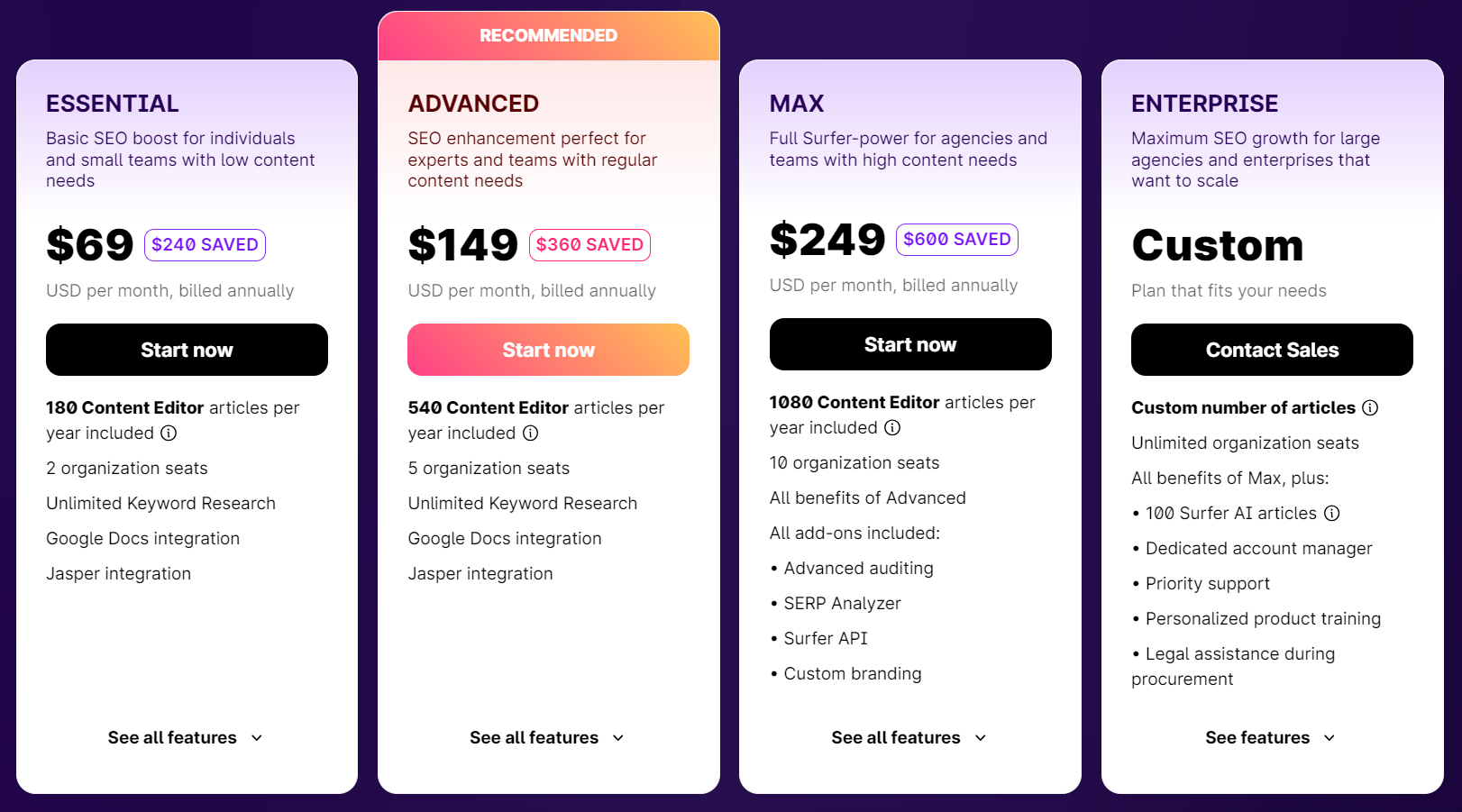 Summary
Surfer SEO is a robust and feature-rich platform that provides valuable insights and actionable recommendations for website optimization. While the tool is highly useful for in-depth SEO analysis, the pricing may be a barrier for smaller businesses. Overall, it is an excellent investment for those looking to improve their SEO performance comprehensively.

Introduction
Serpstat is an all-in-one SEO platform that serves businesses, digital agencies, and marketers. It specializes in keyword research, competitor analysis, and website auditing, among other things. Aimed at helping to improve your website's visibility and ranking, it offers a robust set of tools that can meet the needs of both novice users and SEO experts.
Main Features
Keyword Research: Identify the best keywords to target based on metrics like search volume, competition, and keyword difficulty.
Competitor Analysis: Understand your competition by analyzing their backlinks, keywords, and ad campaigns.
On-Page Audit: Automatically scans your website to identify SEO issues and areas for improvement.
Rank Tracker: Monitors your website's position for specific keywords over time.
Pros
Versatility: It offers a wide range of features that cater to multiple aspects of SEO.
Data-Rich Reports: The reports are comprehensive, providing actionable insights.
Ease of Use: The platform is intuitive and straightforward to navigate.
Cons
Limitations on Lower Plans: Some of the advanced features are only available in the more expensive plans.
Data Accuracy: While generally reliable, some users have reported minor discrepancies in data.
Pricing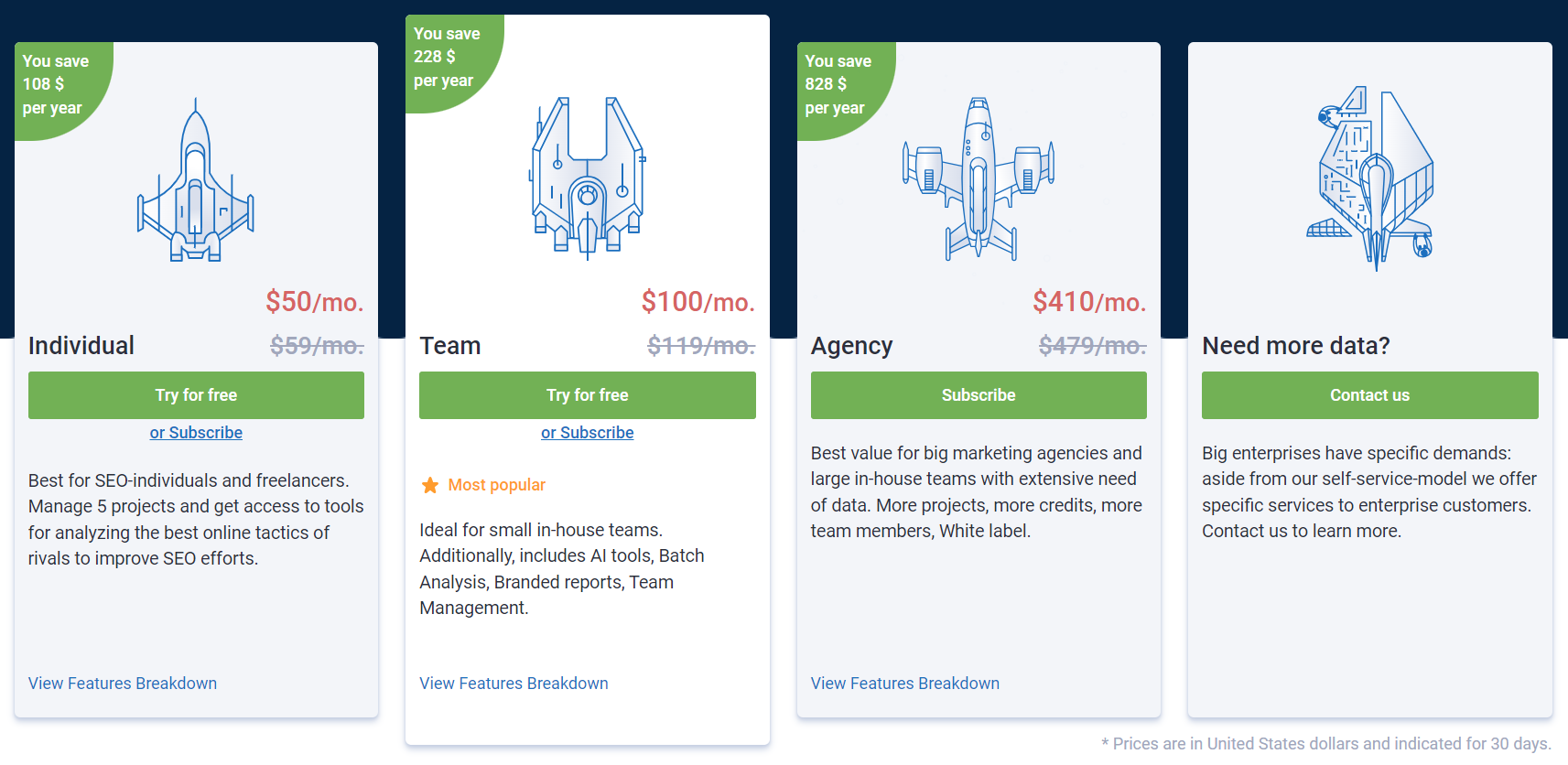 Summary
Serpstat is a feature-packed SEO tool that excels in providing detailed and actionable insights for improving your website's SEO. While the tool offers a wide range of features, the pricing tiers might be a concern for smaller businesses. Nonetheless, it is a solid choice for those serious about SEO, offering everything from keyword research to complex analysis and tracking.

Introduction
Mangools is a user-friendly SEO software suite that provides a set of five simple but effective tools aimed at optimizing your website's search engine performance. Known for its ease of use and straightforward interface, Mangools is particularly popular among small businesses and freelancers.
Main Features
KWFinder: Specializes in keyword research, offering metrics like keyword difficulty and search volume.
SERPChecker: Analyzes SERPs to provide insights into your competition.
SERPWatcher: Tracks your website's ranking for selected keywords.
LinkMiner: Backlink analysis tool to find and evaluate backlinks.
SiteProfiler: Offers an overview of a website's authority, backlink profile, and key metrics.
Pros
User-Friendly: Extremely easy to use, even for those new to SEO.
Affordable: Offers multiple plans that suit various budget ranges.
Quality Data: Provides accurate and actionable information.
Cons
Limited Advanced Features: May not offer some of the in-depth features available in other all-in-one solutions.
Cap on Queries: The number of queries can be limited based on your subscription plan.
Pricing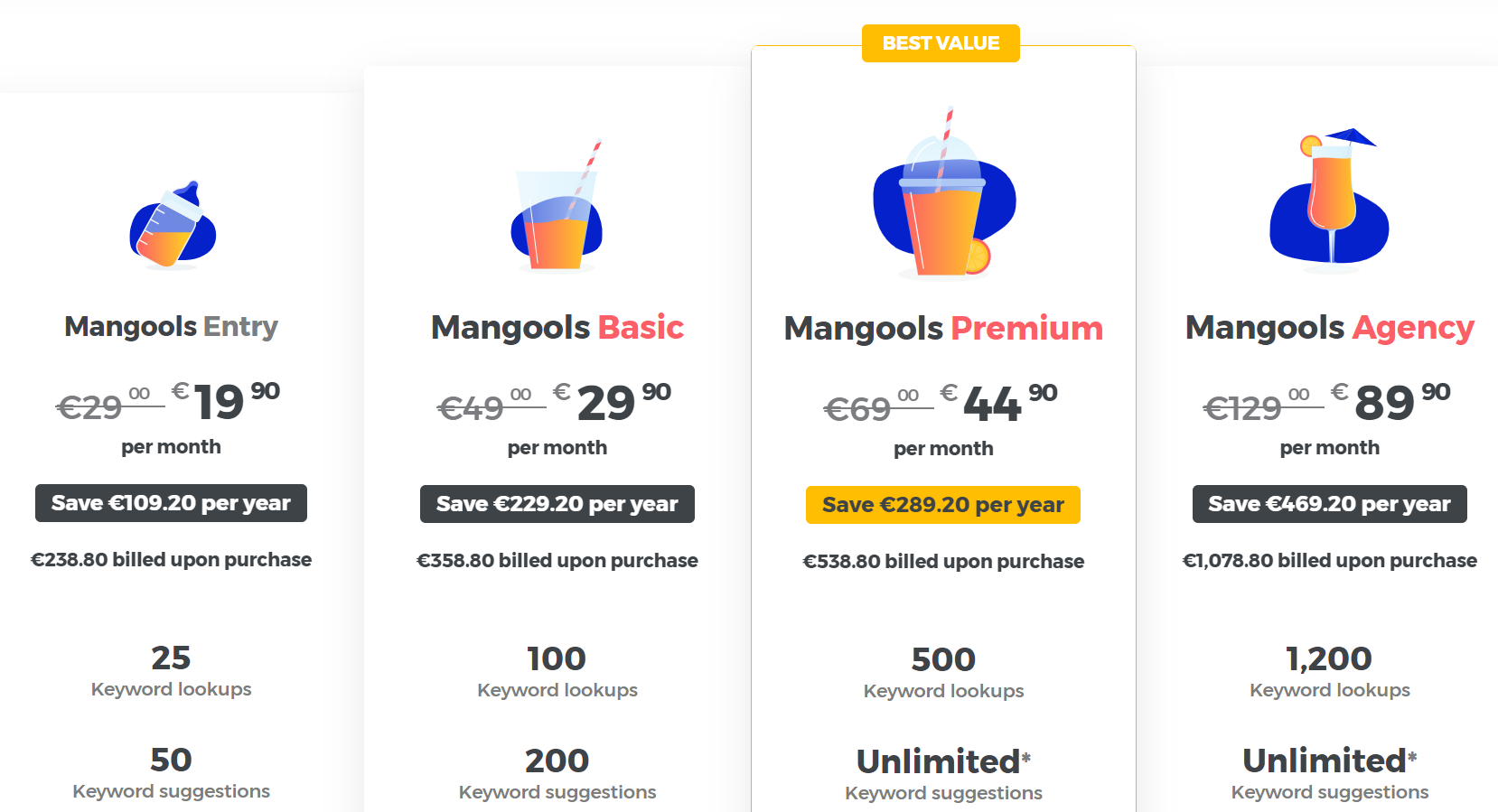 Summary
Mangools stands out for its user-friendly interface and affordability, making it an excellent choice for small businesses or individuals just starting out with SEO. While it may lack some of the more advanced features that larger enterprises may require, it offers solid performance and reliable data across its range of tools.

Introduction
SE Ranking is an all-inclusive SEO software suite that provides a comprehensive range of tools for website audit, keyword research, competitor analysis, and more. It's designed to meet the needs of businesses of all sizes, including freelancers, agencies, and large enterprises.
Main Features
Website Audit: Thoroughly scans your website to identify SEO issues and provides actionable recommendations.
Keyword Rank Tracker: Monitors keyword rankings across multiple search engines.
Competitor SEO/PPC Research: Provides insights into competitors' strategies in organic and paid search.
Backlink Monitoring: Keeps track of your backlink profile and evaluates its effectiveness.
Marketing Plan: Offers a structured plan for improving your site's SEO.
Pros
Comprehensive Suite: A one-stop-shop for all SEO needs.
Flexible Pricing: Plans available for different business sizes and needs.
White Labeling: Options for agencies to white-label the service for clients.
Cons
Learning Curve: Might take some time to get acquainted with all the features.
Limited Free Trial: The free trial might not offer access to all the features you'd like to test.
Pricing

Summary
SE Ranking is a versatile, comprehensive SEO toolset that is well-suited for businesses of all sizes. With a broad range of features, flexible pricing, and the ability to monitor numerous aspects of SEO, it offers robust capabilities that can accommodate both novice users and seasoned experts.

Introduction
WhatConverts is a lead tracking and conversion attribution platform designed to give businesses and marketers a comprehensive view of their marketing performance. Unlike traditional SEO tools, it primarily focuses on tracking leads from various channels and attributing them back to specific marketing activities.
Main Features
Lead Tracking: Tracks all leads coming in via phone calls, web forms, chats, and transactions.
Conversion Attribution: Attributes leads to specific marketing channels or campaigns.
Real-Time Reporting: Offers real-time dashboards and reports for quick insights.
CRM Integration: Easily integrates with popular CRM tools.
Multi-Channel Tracking: Ability to track leads from PPC, SEO, social media, and more.
Pros
Deep Insights: Provides granular data for understanding which marketing activities are most effective.
User-Friendly: Intuitive interface makes it easy to set up and use.
Comprehensive Data: Collects detailed information on each lead to optimize marketing ROI.
Cons
Specialized Focus: Primarily aimed at lead tracking, not a complete SEO solution.
Pricing: Can be on the higher end for small businesses.
Pricing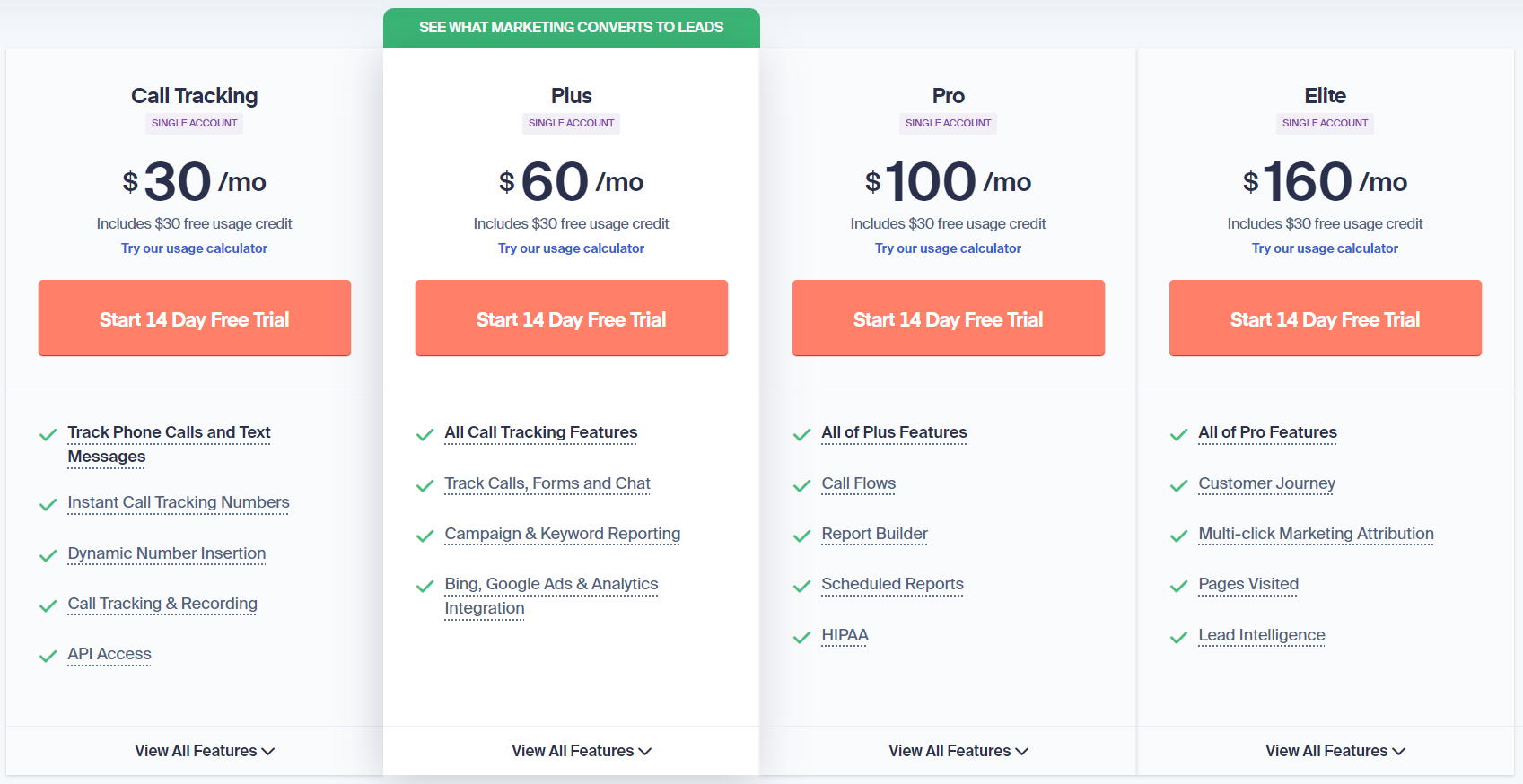 Summary
WhatConverts is an excellent tool for businesses looking to gain a deep understanding of their lead generation efforts. It excels in tracking and attributing conversions to specific marketing channels, giving you the data needed to optimize your marketing spend. However, it's not a one-size-fits-all SEO solution and is best used in conjunction with other SEO and marketing tools.

Introduction
RankWizard is a content creation tool designed to help marketers write articles, blog posts, and newsletters efficiently. By using real-time data, SERP analysis, and GPT-4 technology, RankWizard aims to produce SEO-optimized content that ranks well on search engines.
Main Features
High-Quality Content: Creates SEO-optimized articles and other forms of written content.
Real-time Data: Uses real-time data and SERP analysis for content that is relevant and competitive.
Undetected by AI Detectors: The content generated is marked as human-written, bypassing AI detectors.
Affordable & Efficient: Claims to be more cost-effective than human-written content while maintaining high quality.
Wide Language Support: Supports over 100 languages.
Automated Image Generation: Offers contextual images from UpSplash (stock) or Midjourney (AI).
Pros
Efficiency: Significantly reduces the time needed to produce content.
Quality: Offers fact-checked, SEO-optimized articles.
Multilingual Support: Exceptional range of languages supported, making it versatile for global use.
Affordability: Competitive pricing plans that offer value for money.
Cons
Limited Information on Integration: There is not much information about how well it integrates with other platforms or tools.
Pricing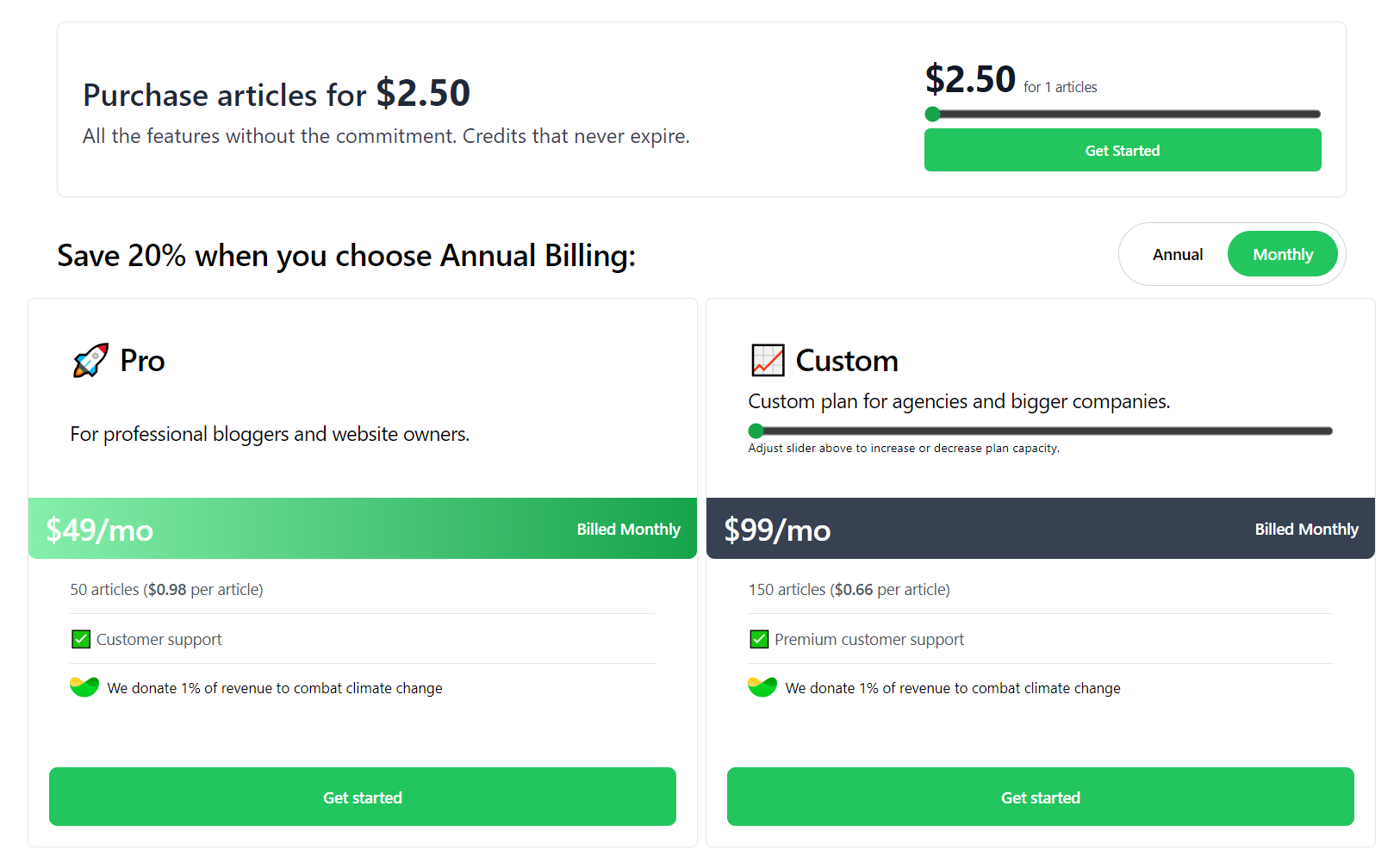 Summary
RankWizard is a promising tool for content marketers and businesses that want to scale their content creation without sacrificing quality. With features like SEO optimization, multi-language support, and competitive pricing, it offers an all-in-one solution for modern content needs. However, potential users may want to inquire further about third-party integration capabilities.

Introduction
Seobility is a comprehensive SEO tool designed to help website owners and SEO professionals improve their site's search engine rankings. This platform offers a variety of features aimed at site auditing, keyword tracking, and backlink analysis, among others.
Main Features
Site Audit: Seobility scans your website to find SEO errors and offers actionable recommendations to improve your site's health.
Keyword Tracking: Monitor keyword rankings over time and understand how your SEO efforts are performing.
Backlink Analysis: Analyze your backlink profile to identify opportunities and threats.
TF*IDF Analysis: Understand the keyword density and relevance in your content compared to top-ranking pages.
SEO Checks: Perform regular SEO checks to maintain a search engine-friendly website.
Pros
Comprehensive site auditing features
Easy-to-understand reports
Competitor analysis capabilities
Suitable for both beginners and experts
Cons
Some users may find the interface a bit complicated
Limitations on the number of keywords you can track in lower-tier plans
Pricing

Summary
Seobility stands out as an all-in-one SEO tool that caters to different aspects of website optimization. With its robust set of features and analytics, it is a worthy investment for those serious about improving their website's search engine rankings.

Introduction
Outranking IO is an SEO content optimization platform that leverages artificial intelligence to help content creators and marketers improve their online presence. The tool is designed to assist in creating high-quality, SEO-friendly content that is more likely to rank higher in search engine results.
Main Features
Content Editor: A built-in editor that provides real-time SEO suggestions to optimize your content as you write.
Keyword Analysis: Comprehensive analysis of target keywords and their SERP competition.
Content Briefs: Generate detailed briefs for writers that outline what needs to be included in an article for optimal SEO.
Performance Tracking: Monitor how your content performs in terms of SEO metrics and user engagement.
Competitor Analysis: Insight into how your competitors are ranking and what you can do to outperform them.
Pros
User-friendly interface makes it easy to navigate and use.
AI-powered suggestions can significantly expedite the content creation process.
Detailed analytics offer actionable insights for content optimization.
Compatible with various content types including blogs, articles, and landing pages.
Cons
Limited integration capabilities with other SEO and content management tools.
May require a learning curve to fully utilize all features.
Pricing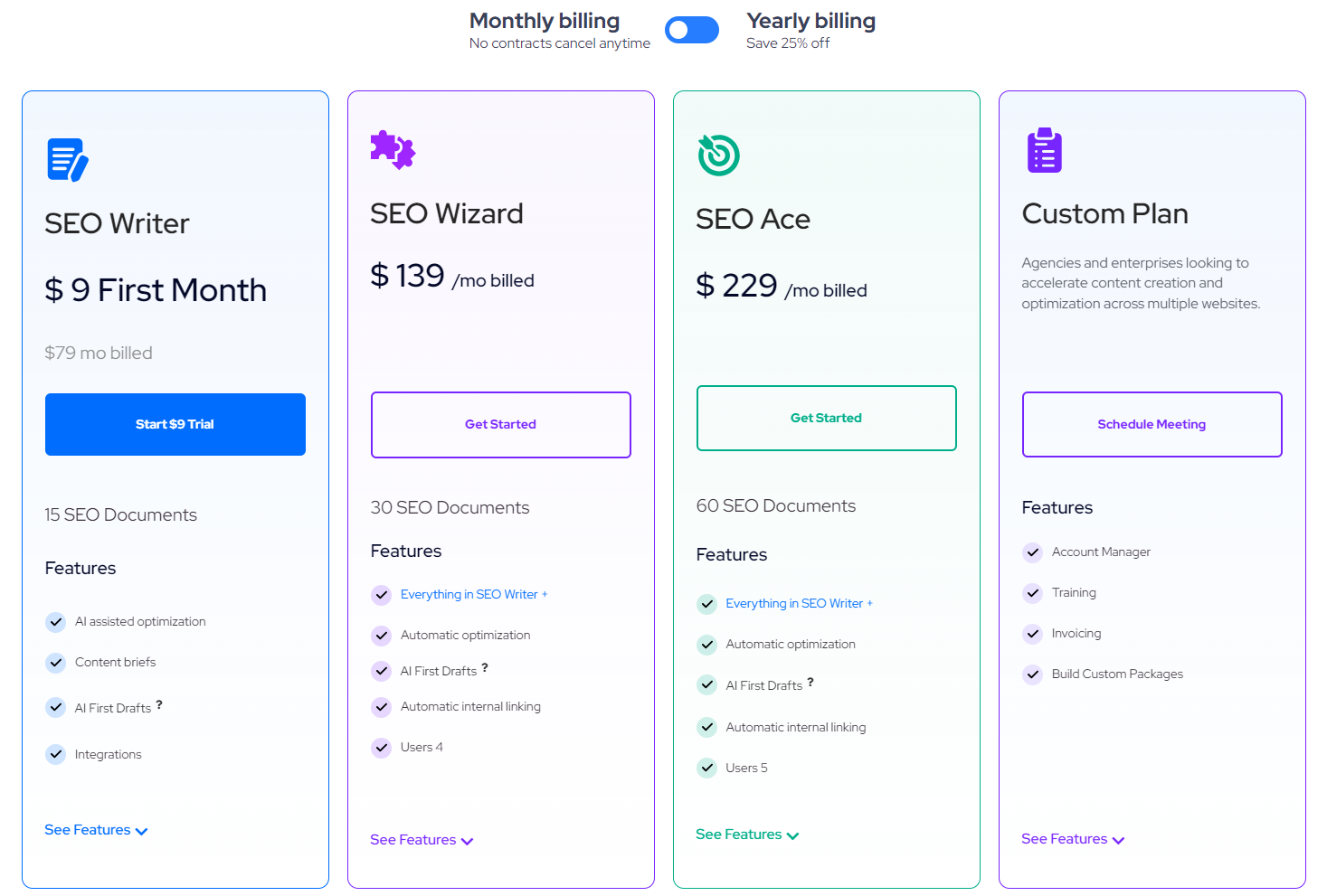 Summary
Outranking IO serves as a powerful platform for automating and enhancing the SEO content creation process. With a range of features backed by AI-driven insights, it can be a valuable asset for anyone looking to elevate their content and improve search engine rankings.

Introduction
Serptimizer is a comprehensive SEO platform designed to optimize websites for better search engine performance. It caters to businesses, SEO professionals, and digital marketers looking to improve their site's rankings and overall SEO health.
Main Features
On-Page SEO Analysis: Evaluates the quality of on-page elements like meta tags, headings, and content.
Backlink Monitoring: Keeps track of your website's backlink profile to identify opportunities and threats.
Keyword Tracking: Monitors keyword rankings across different search engines and locations.
Site Audit: Provides a detailed report of site issues that need to be addressed for SEO improvement.
Competitor Analysis: Allows you to keep an eye on competitors' strategies to make informed decisions.
Pros
Comprehensive feature set that covers a broad range of SEO needs.
Easy-to-use interface with intuitive navigation.
Actionable insights and recommendations based on data analytics.
Ability to monitor multiple websites under one account.
Cons
May be overwhelming for users who are new to SEO.
Pricing may be on the higher end for small businesses or individual users.
Pricing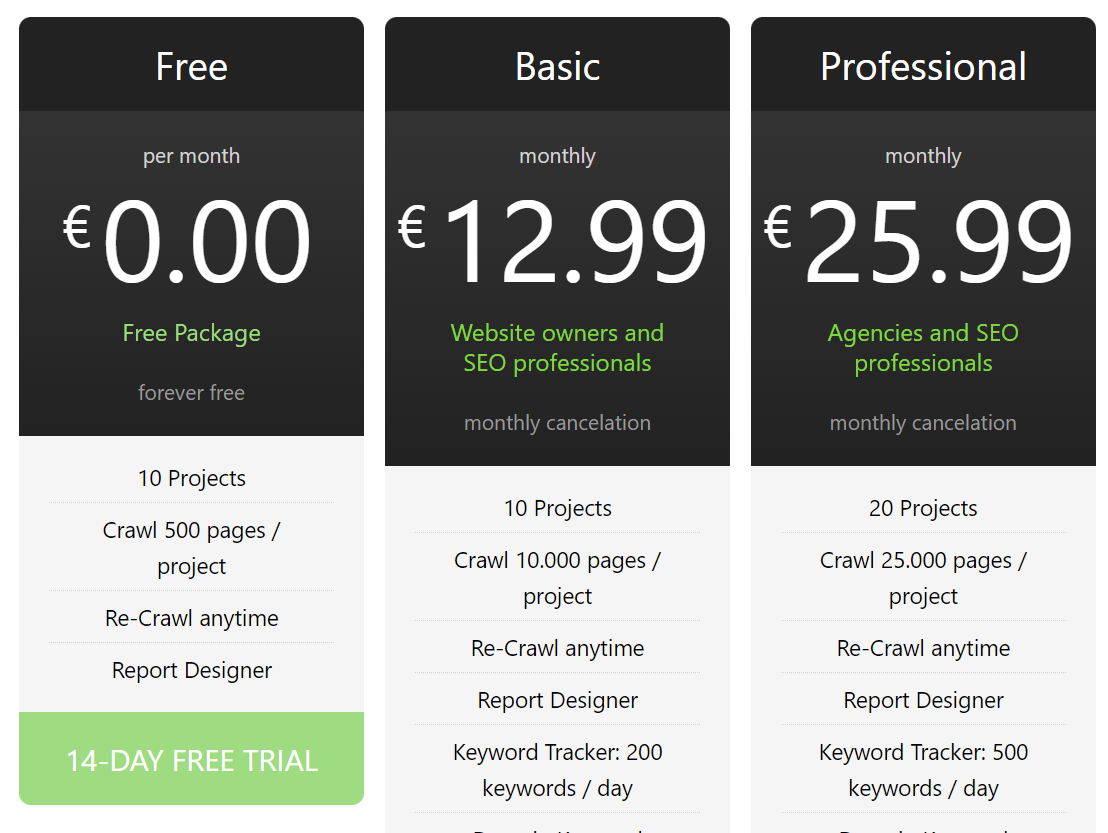 Summary
Serptimizer offers a holistic approach to SEO, covering everything from on-page optimization to backlink monitoring. Its range of features and user-friendly interface make it a strong option for those serious about improving their website's search engine performance.

Introduction
GrowthBar is an SEO and growth hacking software designed to help businesses and individuals drive more traffic to their websites and improve online visibility. It integrates directly into the Google Chrome browser, providing immediate insights into various key metrics directly from the search engine results page (SERP).
Main Features
Keyword Research: Allows users to identify high-opportunity keywords directly from Google searches.
Backlink Checker: Analyzes the backlink profiles of any website, providing useful data for competitive analysis.
SEO Analysis: Offers on-the-spot SEO evaluations, including domain authority and keyword rankings.
Content Ideas: Suggests topics and keywords for content creation based on competitor analysis.
Traffic Insights: Provides estimates on website traffic, both for your own site and competitors.
Pros
Extremely easy to use with its browser integration, no need to switch between platforms.
Provides real-time insights directly from Google SERP, making research quicker.
Effective for competitor analysis with its backlink and keyword features.
Suitable for users with varying levels of SEO expertise.
Cons
Limited to Chrome browser, not available for other browsers like Firefox or Safari.
Some advanced features may require a premium subscription.
As a browser extension, it might consume system resources, affecting browser performance.
Pricing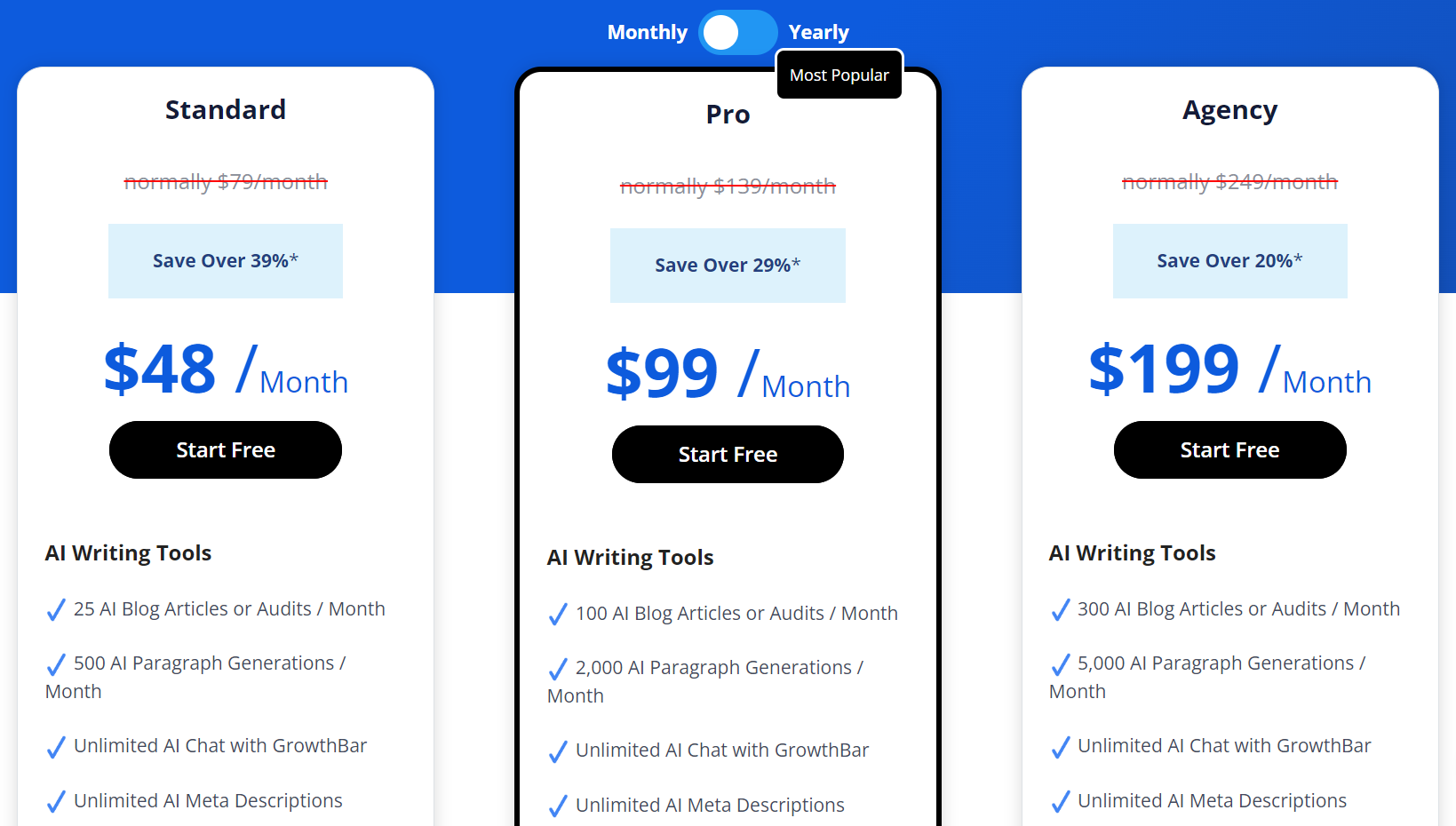 Summary
GrowthBar offers a convenient and effective solution for SEO research and tracking, right from your browser. Its blend of features makes it a versatile tool, useful for everything from basic keyword research to more advanced tasks like backlink analysis and competitor tracking. The tool caters to both novices and seasoned SEO professionals.

Introduction
Morningscore is an SEO platform designed to provide actionable insights and metrics to help businesses improve their online visibility. Aimed at simplifying the complexities of SEO, Morningscore presents data in an easy-to-understand format, enabling users to monitor performance and make informed decisions.
Main Features
SEO Health Score: Provides an overall score for the website's SEO status, allowing users to quickly gauge their site's performance.
Keyword Tracking: Monitors keyword rankings and provides suggestions for optimization.
Competitor Analysis: Enables users to track competitors' performance and strategies to make data-driven decisions.
Backlink Analysis: Offers comprehensive data on incoming links, their quality, and their impact on SEO.
ROI Metrics: Provides clear insights into the return on investment of SEO activities.
Pros
User-friendly interface makes it easy for people without an SEO background to understand the metrics.
Comprehensive dashboard provides a centralized view of key performance indicators.
Real-time tracking of keywords and backlinks ensures up-to-date data.
Transparent ROI metrics help in justifying SEO investments.
Cons
May lack some of the advanced features that other more complex SEO tools offer.
Could be perceived as expensive for smaller businesses or individual users.
Pricing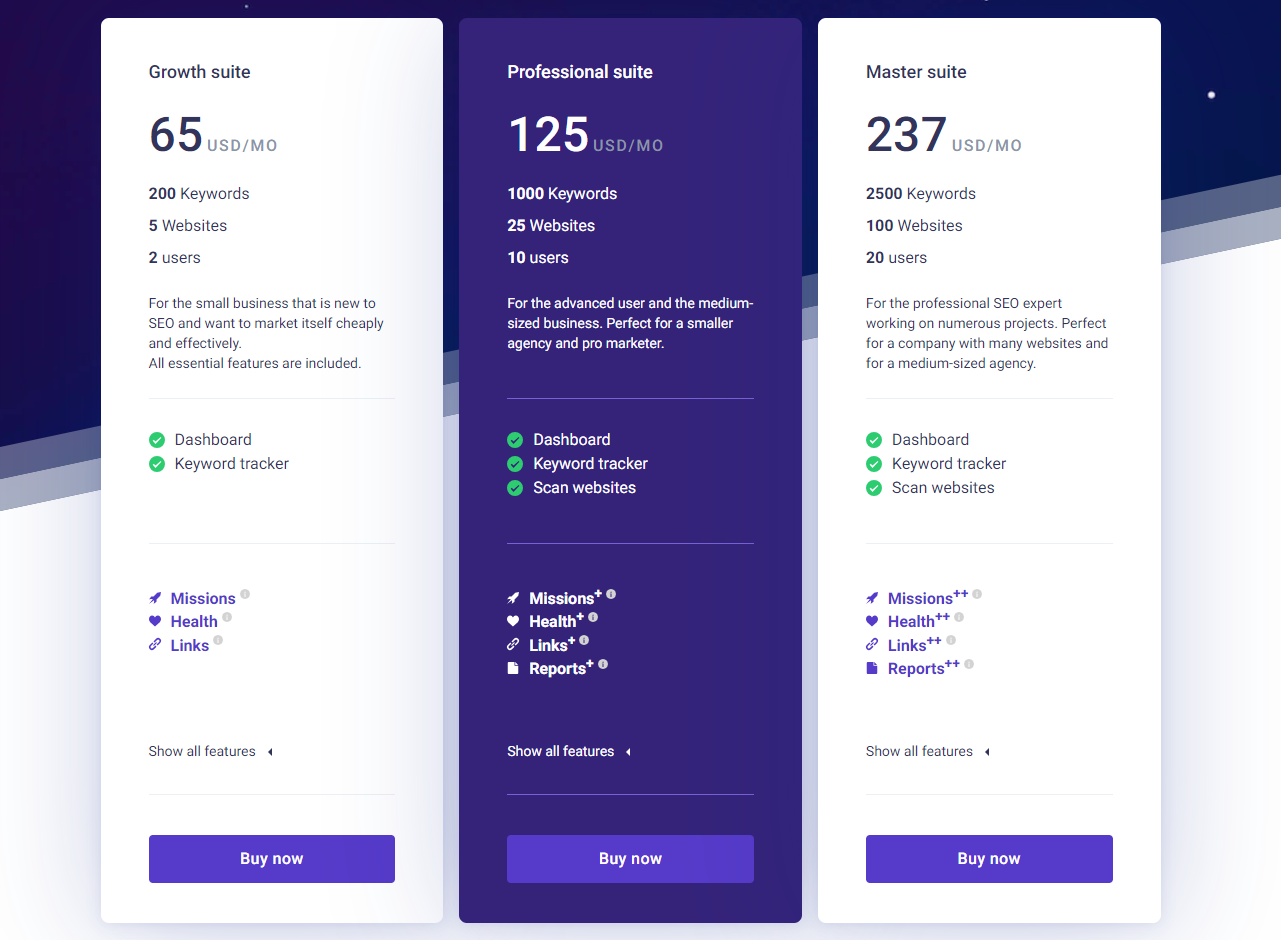 Summary
Morningscore is a robust yet easy-to-use SEO tool that aims to demystify search engine optimization for businesses of all sizes. Its comprehensive range of features, from keyword tracking to ROI analysis, make it a versatile choice for those looking to improve their online visibility. The tool's emphasis on user-friendliness and actionable insights makes it a strong option for both beginners and seasoned professionals in SEO.


Introduction
Scalenut is a content marketing platform designed to manage the entire Search Engine Optimization (SEO) content lifecycle. Aimed at digital marketers, SEO consultants, and businesses, the platform offers a suite of tools that assist in planning, researching, creating, optimizing, and analyzing content. It is trusted by over 1 million marketers and claims to have facilitated significant growth in organic traffic for its users.
Main Features
Cruise Mode: Enables you to write SEO-friendly blogs in less than 5 minutes, saving you research time.
Keyword Planner: Helps discover new content ideas and aligns your content strategy with popular search topics.
Content Optimizer: Provides recommendations to improve your content's ranking and identifies untapped SEO opportunities.
NLP Terms: Utilizes Natural Language Processing to create engaging, reader-friendly content that also performs well on search engines.
Marketing Copywriter: Produces compelling content that aims to drive sales and extend brand reach.
Traffic Analyzer: Offers insights on how your pages and keywords are performing on search engines.
Pros
Comprehensive Suite: Covers the entire SEO content lifecycle, from planning to analysis.
User-Friendly Interface: The "Cruise Mode" and other features are designed to be intuitive and easy to use.
Data-Driven: Uses data from SERP and keyword analysis to inform content strategies.
Automated Optimization: Technology that automatically improves the SEO performance of your content.
Support and Onboarding: Offers 1:1 onboarding and world-class customer support.
Cons
Information Overload: The variety of features and data might be overwhelming for beginners.
Pricing: The platform may not be affordable for small businesses or individual freelancers (specific pricing details not provided).
Pricing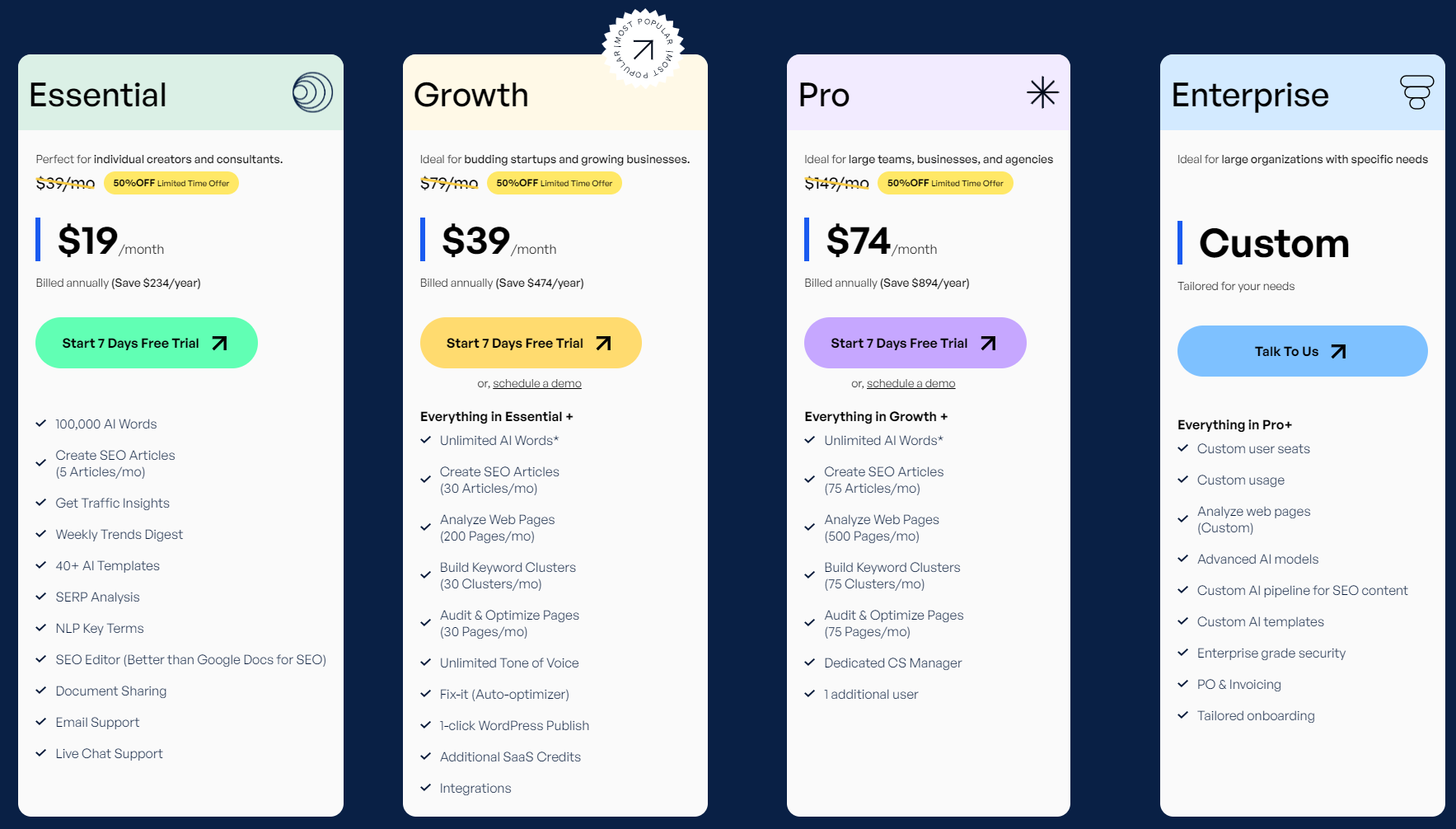 Summary
Scalenut provides a comprehensive solution for managing the SEO content lifecycle. Its wide array of features, ranging from automated content optimization to keyword planning and traffic analysis, makes it a robust platform for content marketers. Although it might present a steep learning curve for beginners and its premium features may be costly, it offers valuable capabilities that can significantly improve your content strategy and organic traffic.

Introduction
GetGenie is a SaaS platform focused on leveraging Artificial Intelligence to optimize SEO and content creation. It is designed to help businesses, particularly those using WordPress, to improve their organic traffic and search rankings. GetGenie offers various features from keyword analysis to content optimization, all designed to enhance the SERP readiness of your content.
Main Features
SEO and Organic Traffic Growth: Utilizes AI to optimize content for search engines.
Keyword Analysis: Analyzes and picks relevant keywords, providing details like trends, search volume, and competitiveness.
Competitor Analysis: Allows you to analyze competitors' content to identify gaps and strengths.
One-Click Blog: Enables AI-powered blog creation in 60 seconds.
Content Analysis: Features a built-in content score based on predictive AI technology for on-page SEO factors.
SERP Analysis: Provides head-to-head analysis with competitors and SERP visualization.
Customized Content: Offers the ability to optimize each section of the content.
Templates: Includes over 37 AI writing templates for different content needs.
Pros
Comprehensive SEO Tools: From keyword to SERP analysis, GetGenie offers a broad spectrum of tools for SEO.
Ease of Use: The platform integrates directly with WordPress, making it convenient to use.
Time-saving: Automates the process of content creation and SEO optimization.
Competitive Edge: Allows you to analyze competitors to get insights and outrank them.
Multi-language Support: Supports 33+ languages.
Cons
Learning Curve: As with most AI-powered tools, GetGenie may require some time to fully understand and utilize.
Pricing: While it offers robust features, the pricing might be a consideration for smaller businesses or individuals.
Pricing

Summary
GetGenie stands out as a comprehensive SEO and content optimization platform. With its AI-powered features, it aims to simplify and speed up the process of content creation and optimization for search engines. Although the tool may require some time to master, its range of features and capabilities make it a robust option for anyone serious about SEO.

Introduction
ShineRanker is an AI-powered platform aimed at content creators, especially those focused on video content. The service is designed to assist users in scaling their channels and driving monetization, offering a yearly secured payment with a 7-day risk-free money-back guarantee. The platform is particularly focused on making content creation efficient and effective through AI and SEO tools.
Main Features
AI Video Tools: Converts text and ideas into high-quality videos quickly.
SEO Tools: Provides optimization tools aimed at boosting the visibility and profitability of your content.
Shinefy VIP: Offers additional checklists and tools designed to maximize revenue through commissions and views.
Email & Chat Support: A dedicated team is available to resolve any issues immediately.
Private Community Chat & Messenger: A forum for content creators to share knowledge and build valuable networks.
Access to Chase Reiner's Courses, Classes, and Checklists: Provides additional educational resources.
Pros
Time Efficiency: The platform promises to cut down the time spent on creating videos and other forms of content.
Comprehensive: Offers a wide range of tools covering everything from video creation to SEO and community support.
Money-Back Guarantee: Provides a risk-free trial period of 7 days.
Training Included: Comes with free access to Chase Reiner's courses, providing valuable educational content.
Cons
Cost: With an annual fee of $499, the platform may be too expensive for some users, particularly those just starting out.
Earnings Disclaimer: While the platform promotes high earning potential, it also disclaims that results will vary based on individual efforts, which might set unrealistic expectations.
Pricing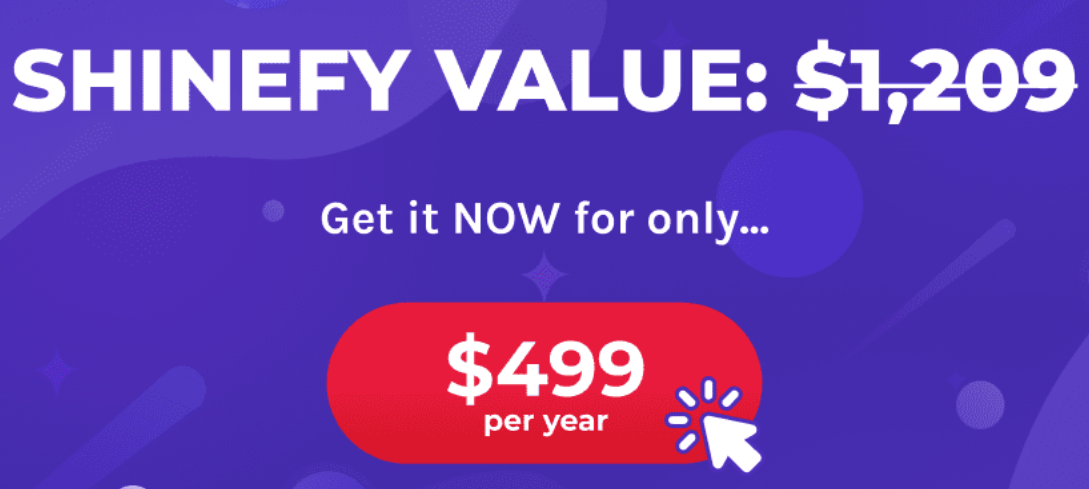 Summary
ShineRanker is a comprehensive, AI-powered platform designed to help content creators efficiently scale their channels and boost earnings. With a focus on time-saving AI and SEO tools, it aims to make the content creation process as streamlined and effective as possible. While the cost may be a barrier for some, its wide range of features and 7-day money-back guarantee make it a compelling option for those serious about elevating their content creation efforts.
How to Choose the Best SEO Tool
Choosing the right SEO tool can be overwhelming given the array of options available. However, the best SEO tool for you will depend on your specific needs, goals, and budget. Here are some factors to consider when making your choice:
Features
Different SEO tools excel in different areas, such as keyword research, backlink analysis, or site audits. Determine what features are most crucial for your SEO strategy and look for tools that specialize in those areas.
Ease of Use
A tool with a user-friendly interface can save you time and effort. Many top-ranked SEO tools offer free trials or demos, allowing you to test their usability before making a commitment.
Pricing
SEO tools come in a range of price points, from free options like Google Analytics to premium services like Ahrefs and SEMrush. Compare pricing plans, and consider whether the features offered justify the cost.
Reviews and Recommendations
Online reviews and recommendations can offer valuable insights into a tool's performance and reliability. You can also seek advice from industry experts or peers to find out what tools they're using and why.
Scalability
As your business grows, your SEO needs will likely evolve. Choose a tool that can scale with you, offering advanced features you can grow into over time.
Customer Support
Prompt and effective customer support can be invaluable, especially if you encounter any issues or have questions about how to use the tool effectively.By keeping these factors in mind, you'll be better equipped to choose an SEO tool that aligns with your needs and contributes positively to your overall digital marketing strategy.
Conclusion
Navigating the world of SEO can be challenging, but the right tools can make a significant difference. Whether you're a beginner looking to understand the basics of keyword research and content optimization or an expert aiming for more advanced strategies like backlink analysis and rank tracking, there's an SEO tool out there for you. By considering features, ease of use, pricing, and scalability, you can make an informed decision that elevates your SEO efforts. So go ahead, explore the best SEO tools we've discussed and take your digital marketing to the next level.
FAQs
1. What is the most effective tool for SEO?
The effectiveness of an SEO tool depends on your specific needs and what you're looking to achieve. Tools like Ahrefs, SEMrush, and Moz are generally considered comprehensive and effective for a variety of SEO tasks.
2. What tools should I use for SEO?
For keyword research, tools like Ahrefs and Google Keyword Planner are popular choices. For backlink analysis, you might consider Moz or SEMrush. Google Analytics is essential for tracking website performance.
3. How to get 100% SEO?
Achieving 100% SEO is unrealistic as search engine algorithms are constantly changing, and what works today may not be as effective tomorrow. However, following best practices in keyword research, content optimization, and backlink building can significantly improve your SEO.
4. Does Google have an SEO tool?
Yes, Google offers several free SEO tools including Google Analytics for tracking website performance, Google Search Console for monitoring your site's presence in Google Search, and Google Keyword Planner for keyword research.
5. Can I do SEO on my own?
Absolutely, many aspects of SEO can be handled in-house, especially with the help of various SEO tools. However, depending on the complexity and scale of your project, you may benefit from consulting with SEO professionals.
6. Can I use Google SEO for free?
Many of Google's SEO tools like Google Analytics and Google Search Console are free to use and provide valuable insights for your SEO efforts.
7. Can I do SEO for free?
Yes, there are many free resources and tools available to help you with SEO. However, some advanced features and data might only be available through paid subscriptions to SEO software.
8. Is Google SEO worth it?
Investing in Google SEO is generally considered worth it, as appearing on the first page of Google search results can significantly increase visibility and drive high-quality traffic to your site.
9. What does Google SEO cost?
The cost can vary widely depending on the scale and complexity of your project. While many Google tools are free, other third-party SEO tools and professional services come at a price.
10. How do I get high SEO on Google?
Improving your SEO on Google involves multiple factors like optimizing your website for relevant keywords, improving page load speed, obtaining high-quality backlinks, and regularly updating content.
Related Articles:


Affiliate Disclosure:
I earn from qualifying purchases. This means that when you click on certain links on our website and purchase through Amazon, we may receive a small commission at no additional cost.