In the fast-paced realm of home innovations, the Aidot WeLov H500pro Ultrasonic Humidifier has emerged as a standout performer. Today, we delve into the fascinating features that make this humidifier a game-changer for your family's comfort and well-being. A Green and Clean Solution: Aidot WeLov's commitment to the environment and user satisfaction shines through in the H500pro. It flaunts an impressive list of environmental certifications, including FCC, CE, ROHS, and IC, and it's entirely BPA-free. Not only does it ensure optimal humidity, but it also provides peace of mind regarding your family's health and a cleaner planet. Revolutionizing Humidification:
Endless Mist Production: The H500pro is a powerhouse capable of delivering a continuous mist for up to 90 hours. It's akin to an endless tale of humidification without any mythical dragons to face.
BoostMist™ Technology: Operating at an impressive rate of 550ml per hour, this device creates a personal cloud of comfort for you. It excels in large-area humidification, covering an expansive 20-70 square meters, making it a must-have for spacious living areas.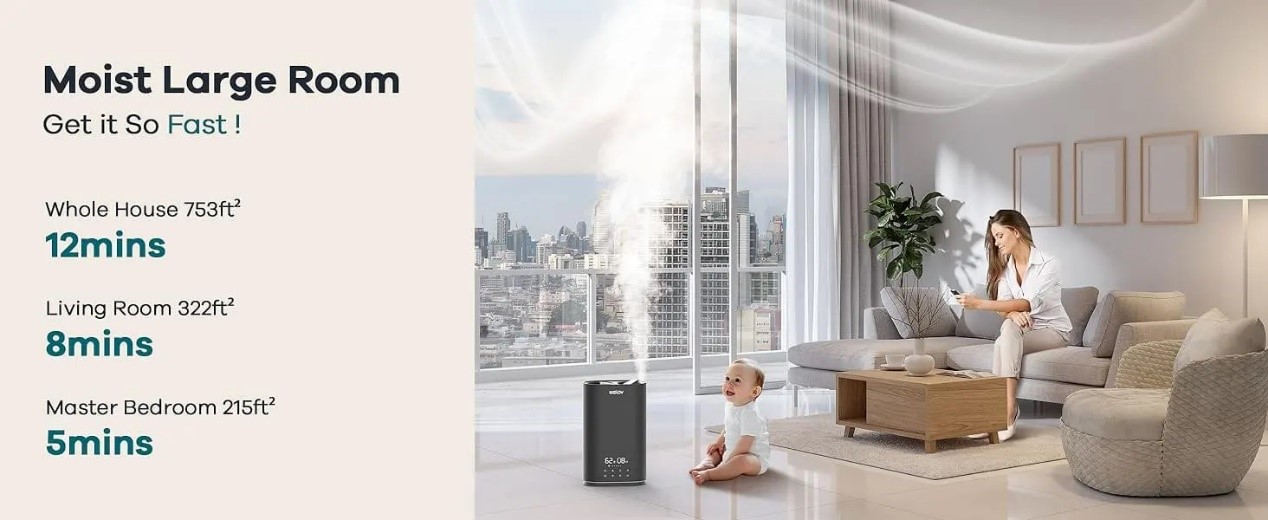 Smart and Savvy: The H500pro doesn't just add moisture to your environment; it does so intelligently:
Smart Control: With its dedicated smartphone app, this humidifier can be set to work its magic before you even step inside your home. It's also voice-command compatible, making it a convenient addition to any modern household.
Humidity Mastery: The H500pro boasts an ingenious feature that allows you to set and maintain your preferred indoor humidity level within 30% to 95% relative humidity. Say goodbye to feeling like you're in a desert one day and a rainforest the next.
Generous Water Reservoir: Equipped with a 6-liter water tank, this humidifier minimizes the need for frequent refills, ensuring that your indoor air remains comfortably moist for extended periods.
Nighttime Whisper: When it's time to catch some beauty sleep, the H500pro operates at a mere 22dB, ensuring that it won't disrupt your rest. Furthermore, it features a night mode that automatically dims the lights after a brief 3-second delay.
Safety in Focus: Aidot WeLov has taken security to heart:
Overheat Protection: The H500pro is equipped with overheat protection, which means it will cease operation if the water level becomes critically low or someone attempts to remove its water tank, providing peace of mind to users.
In Conclusion, The Aidot WeLov H500pro Ultrasonic Humidifier is more than just a breath of fresh air; it's a revolution in home comfort. Offering cutting-edge features and environmental responsibility, it delivers unparalleled convenience and well-being. For those ready to bid farewell to dry indoor air and embrace a new era of home comfort, the Aidot WeLov H500pro Humidifier is the answer. It's time to transform your living space into an oasis of moisture and well-being. For more details and to get the Aidot WeLov H500pro Ultrasonic Humidifier, you can visit the product link: Aidot WeLov H500pro Ultrasonic Humidifier.