In today's fast-paced digital world, the secret to successful online marketing often lies in one key component - landing pages. But what makes a landing page truly stand out? Let's dive in to explore.
Understanding Landing Pages
Before we delve into the specifics, let's build a shared understanding of a landing page.
Defining Landing Pages
A landing page is a standalone web page created for a marketing or advertising campaign. It's where a visitor lands after they click on a link in an email or ads from search engines like Google or Bing or similar places on the web.
The Purpose of Landing Pages
Unlike regular web pages with many goals and encourage exploration, landing pages are designed with a single focus or purpose, known as a call to action (or CTA, for short). This simplicity makes them the best option for increasing conversion rates for marketing campaigns.
Top Examples of Excellent Landing Pages
Looking at successful examples can be a great source of inspiration. Here are five landing pages that rock.
Number
Name
Image
Best For
Rating
Pricing
1
Pagecloud
Visual web design
without coding
4.7
Free - $79
/mo
2
Instapage
Post-click landing pages & advertising campaigns
4.5
$199 + custom
/mo
3
Landingi
Drag-and-drop
landing page designs
4.4
$29 - $1000
/mo
4
Elementor
Highly customizable WordPress websites
4.2
$11
/mo
5
Phonesites
Mobile-friendly landing pages and quick setups
4.0
$79 - $179
/mo

Introduction
PageCloud is a website building platform designed to offer a highly customizable and user-friendly environment for individuals and businesses to create websites. Unlike traditional website builders, PageCloud focuses on providing a drag-and-drop interface that allows for extensive customization without requiring coding skills.
Main Features
Drag-and-Drop Editor: Enables users to place elements anywhere on the page.
Customizable Templates: A variety of templates that can be customized to fit your needs.
E-commerce Capabilities: Allows for the integration of various payment gateways and shopping cart features.
SEO Tools: Built-in SEO features to help your website rank better in search engines.
Integrations: Supports integration with various third-party apps and services like Google Analytics, Mailchimp, and more.
Mobile Responsiveness: Automatically optimizes websites for mobile viewing.
Hosting and Domain: Provides web hosting and domain registration services.
Pros
Highly Customizable: Offers unparalleled customization features.
User-Friendly: Easy to use, especially for those without coding skills.
One-Stop Solution: Provides hosting, domain registration, and other essential services.
Strong Customer Support: Offers robust customer service to assist users.
Cons
Pricing: Can be on the higher side compared to other website builders.
Learning Curve: While it's user-friendly, the plethora of features can be overwhelming for some.
Limited Free Plan: The free plan has limited features and capabilities.
Pricing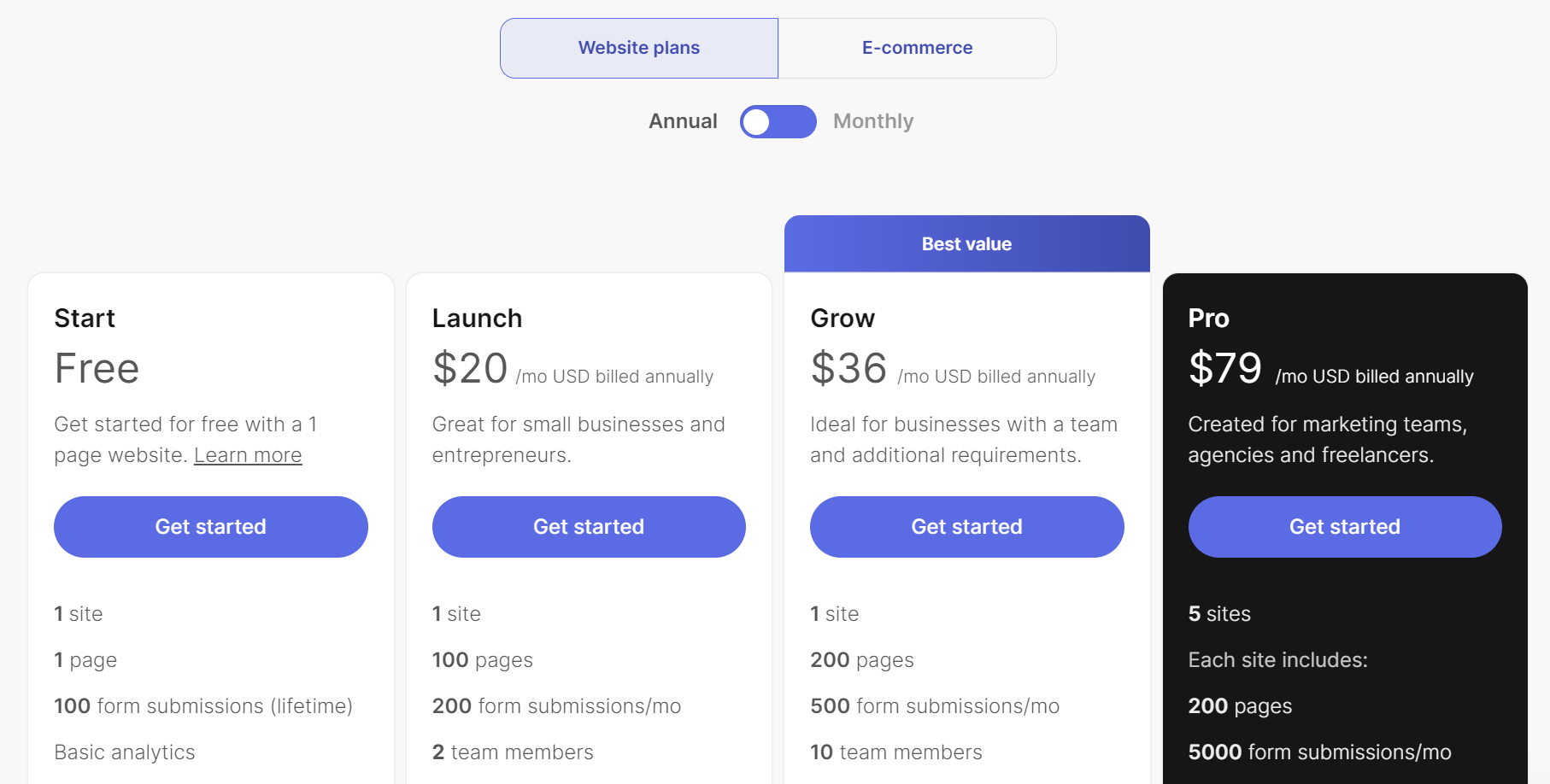 Summary
PageCloud is a robust and highly customizable website builder that caters to both novices and professionals. Its drag-and-drop interface, coupled with a wide range of features and integrations, makes it a compelling choice for those looking to build a unique website. However, the platform can be a bit pricey, and the array of features may require some time to master. Overall, if you're looking for a one-stop solution for your website needs that offers extensive customization, PageCloud is worth considering.

Introduction
Instapage is a specialized landing page platform designed for marketing teams and agencies to improve their advertising conversion rates. The platform focuses on enabling users to create, personalize, and optimize post-click landing pages at scale.
Main Features
Drag-and-Drop Editor: Allows for easy customization of landing pages without coding.
A/B Testing: Enables users to test different versions of a landing page to optimize for conversions.
AdMap: Visualizes your ad campaigns and connects them to relevant post-click landing pages.
Heatmaps: Provides insights into visitor behavior on your landing pages.
Collaboration: In-app collaboration tools for team members to provide real-time feedback.
Integrations: Seamless integration with CRM, email marketing, and social media platforms.
Pros
Highly Optimized for Conversions: Built specifically to improve advertising ROI.
Ease of Use: Intuitive drag-and-drop interface.
Robust Analytics: Offers a variety of tools for tracking performance and visitor behavior.
Scalability: Designed to create and manage landing pages at scale.
Collaboration Features: Makes it easy for teams to work together on projects.
Cons
Cost: Generally more expensive than general-purpose website builders.
Limited Scope: Primarily focused on landing pages, not a full-fledged website builder.
Complexity: Some features may have a learning curve for beginners.
Pricing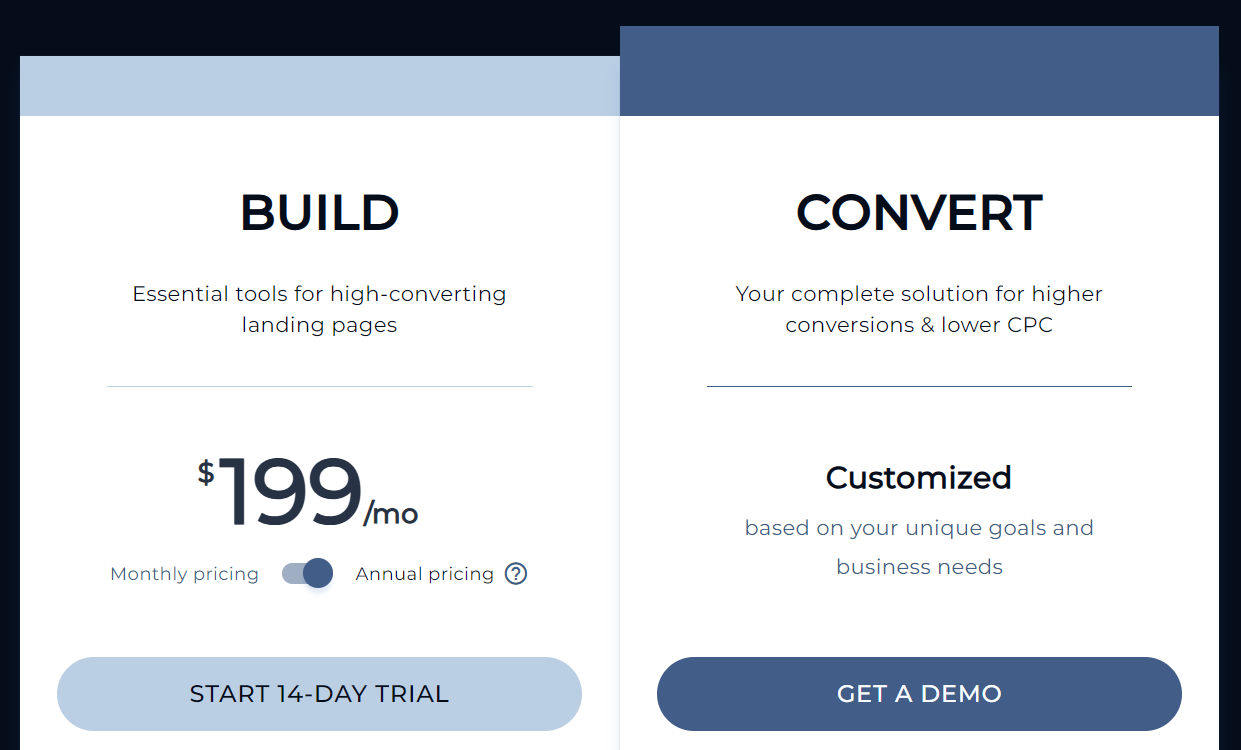 Summary
Instapage is a powerful platform for creating and optimizing landing pages, specifically designed to improve the ROI of advertising campaigns. Its rich set of features, including A/B testing, heatmaps, and integrations, make it a go-to solution for marketing professionals. However, the platform is not intended for building full websites and can be expensive for smaller businesses or individual users. If your primary focus is on optimizing advertising conversions, Instapage is a strong contender in the market.

Introduction
Landingi is a cloud-based landing page builder designed for marketers, business owners, and agencies to create and optimize landing pages without the need for coding skills. The platform aims to simplify the process of capturing leads and converting visitors into customers.
Main Features
Drag-and-Drop Editor: User-friendly interface that allows for easy customization of landing pages.
Templates: A wide range of pre-designed templates that can be customized to fit your brand.
A/B Testing: Test multiple versions of a landing page to determine which performs best.
Lead Management: Built-in tools for capturing and managing leads.
Integrations: Supports integration with various third-party applications like email marketing services, analytics tools, and CRMs.
Pop-ups and Lightboxes: Features to add pop-ups and lightboxes to capture leads or provide additional information.
Pros
Ease of Use: The platform is designed to be user-friendly, making it easy for individuals without technical skills to create professional-looking landing pages.
Flexibility: Highly customizable with a variety of templates and elements.
Affordable: Offers a range of pricing options suitable for small to medium-sized businesses.
Collaboration: Allows multiple users to collaborate on the same project.
Customer Support: Known for responsive and helpful customer service.
Cons
Limited Advanced Features: May not offer as many advanced features as some other specialized landing page platforms.
Learning Curve: While designed to be user-friendly, some features may require a bit of time to master.
Pricing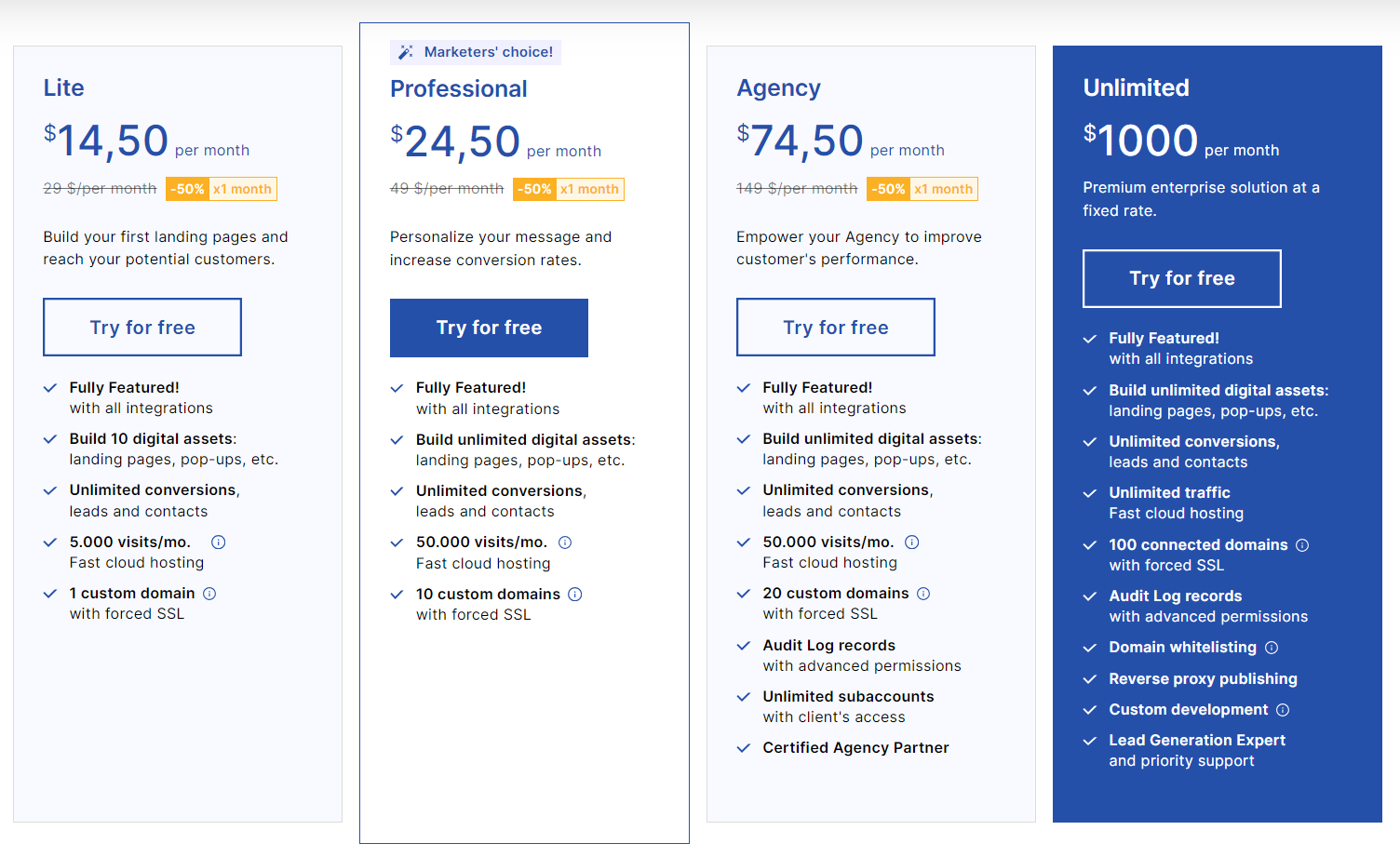 Summary
Landingi is a versatile and user-friendly landing page builder that offers a good balance of features and affordability. It is particularly well-suited for small to medium-sized businesses and marketers who want to quickly create and deploy landing pages without a steep learning curve. While it may lack some of the advanced features found in more specialized platforms, it provides a solid range of tools for most landing page needs.

Introduction
Elementor is a popular WordPress page builder that allows users to create and edit websites in a real-time, drag-and-drop environment. It's designed to be user-friendly, enabling both professionals and beginners to build sophisticated layouts without requiring any coding skills.
Main Features
Drag-and-Drop Editor: Intuitive interface that allows users to drag elements onto a page and see changes in real-time.
Widgets: A wide variety of widgets like text, images, buttons, and more, which can be customized and styled.
Theme Builder: Allows you to create custom themes for your WordPress site, including headers, footers, and blog post layouts.
WooCommerce Builder: Special widgets and templates for building WooCommerce-based online stores.
Responsive Design: Tools to ensure your website is mobile-responsive.
Revision History: Enables you to revert to previous versions of a page.
Integrations: Compatibility with a wide range of third-party plugins and tools.
Pros
User-Friendly: Extremely intuitive, making it easy for users of all skill levels to create professional websites.
Customizable: Offers a high level of customization with a wide array of widgets and templates.
Performance: Built with speed in mind, ensuring that websites load quickly.
Community and Support: A large community of users and extensive documentation, along with premium support for paid plans.
Developer-Friendly: Offers advanced capabilities and custom CSS for those who want to dive deeper.
Cons
Pricing: The free version is limited, and the pro version may be costly for some users.
Complexity: The wide array of features can be overwhelming for beginners.
Compatibility: While it generally works well with most themes and plugins, there can be conflicts with some.
Pricing

Summary
Elementor stands out as one of the most feature-rich, user-friendly page builders for WordPress. It offers a range of options for users of all skill levels, from beginners to advanced web developers. While the pricing for the Pro version may be a hurdle for some, the robust features and capabilities often justify the investment. Overall, Elementor serves as a comprehensive solution for anyone looking to build and customize a WordPress website with ease.

Introduction
PhoneSites is a digital platform designed to create landing pages and sales funnels directly from your mobile device. It aims to simplify the process of online marketing by offering a user-friendly interface that requires no coding or technical skills.
Main Features
Mobile-First Design: Create and manage landing pages directly from a mobile device.
Drag-and-Drop Builder: Easy-to-use interface for building pages quickly.
Templates: Pre-designed templates for various industries and use-cases.
Lead Management: Built-in CRM for tracking and managing leads.
Integrations: Compatibility with various third-party applications for email marketing, payment processing, and more.
Analytics: Real-time tracking and reporting features.
Pros
Accessibility: The mobile-first approach allows you to work from anywhere.
Ease of Use: Designed for users with no technical background.
Speed: Quick setup and deployment of landing pages.
All-in-One Solution: Comes with built-in CRM and analytics tools.
Customization: While it's designed for simplicity, it still offers a decent level of customization.
Cons
Limited Advanced Features: May not offer as many advanced features as some other platforms.
Pricing: Could be considered expensive for small businesses or individual users.
Learning Curve: While it's designed to be simple, some users may take time to get accustomed to the mobile interface.
Pricing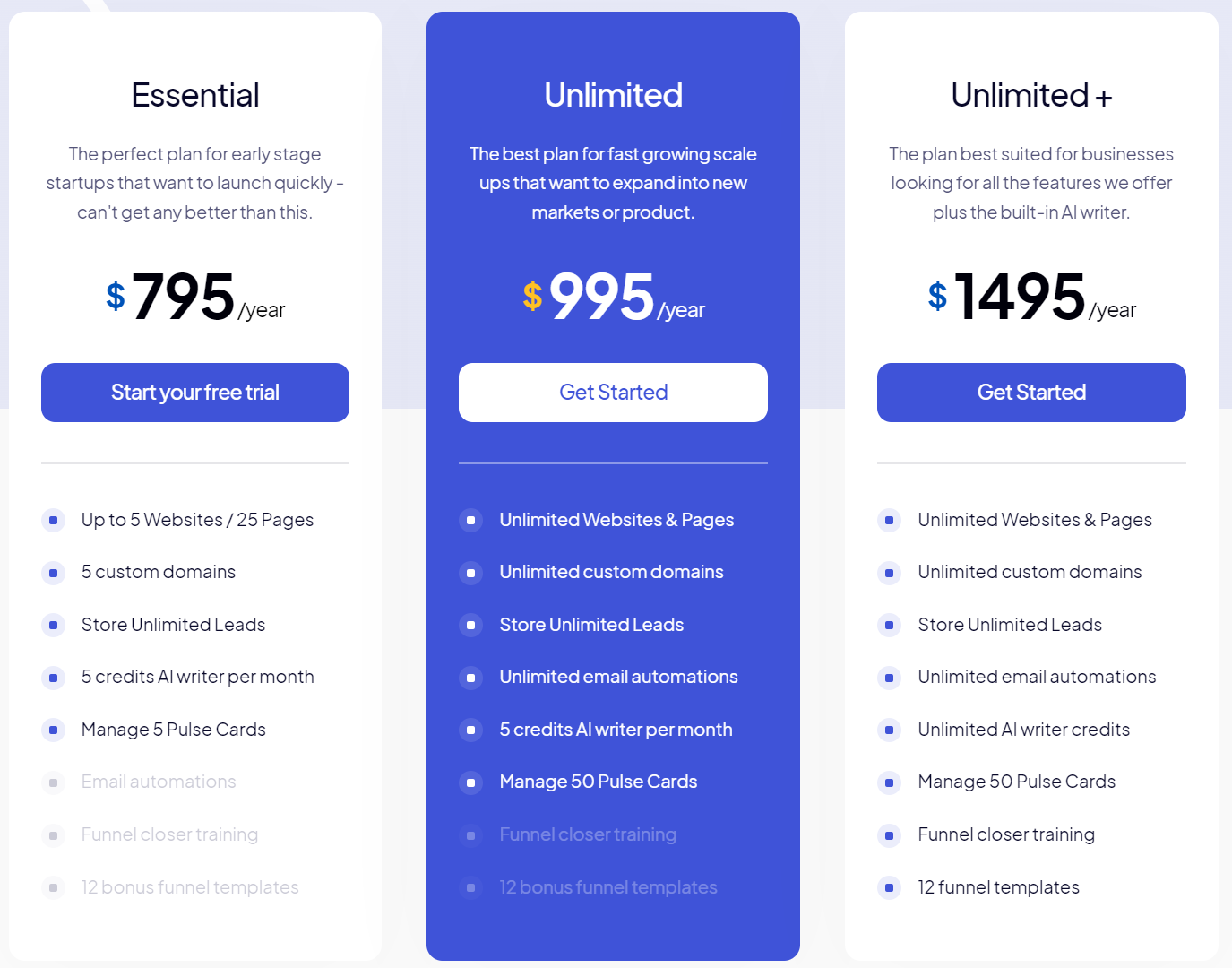 Summary
PhoneSites offers a unique, mobile-centric approach to creating landing pages and sales funnels. It's particularly useful for individuals and small businesses looking for a quick and easy way to start their online marketing efforts. While it may lack some of the advanced features found in more comprehensive platforms, it makes up for it with its simplicity and convenience. Overall, it's a solid choice for those prioritizing speed and ease of use.
Essential Elements of Top-Notch Landing Pages
Now that we have a basic understanding of landing pages, let's discuss what elements make a landing page genuinely effective.
Attractive and Clear Headlines
The headline is the first thing visitors see, so make it count. It should be attractive and communicate your product or service's unique value.
Engaging Visuals
Visual content is a powerful tool for communication because it's processed much quicker by the brain than text. It Is recommended to use high-quality images, videos, or infographics that complement the text and enhance your message.
Powerful Calls-to-Action (CTAs)
Every landing page needs a call to action. This instructs visitors on what action to take next and brings them closer to becoming customers. Make it prominent, compelling, and concise.
Trust-Inducing Testimonials
Social proofs like testimonials, reviews, and case studies can significantly enhance the credibility of your offer. They help overcome skepticism and build trust with your visitors.
Simple, Effective Forms
The form is where visitors provide information in exchange for the offer. It would be best to keep it simple and only ask for the necessary information. If it's shorter, people might not have patience and leave the page.
These examples embody the principles we discussed earlier. Notice the clarity, visual appeal, and simplicity in each of them.
Creating Your Own High-Converting Landing Page
Would you be ready to create your landing page? Let's look at some essential steps.
The Design Process
A well-designed landing page enhances the user experience. You can stick to clean, uncluttered designs that highlight your CTA.
Copywriting Tips
Write persuasive, benefit-oriented copy. Focus on how your product or service can solve a problem or provide value to the user.
Testing and Improvement
You can test different landing page versions to see what works best. Consider A/B testing other headlines, images, and CTAs to optimize conversions.
Conclusion
The perfect landing page isn't built in a day. It requires careful planning, a touch of creativity, and ongoing testing. But by using the principles outlined above, you're well on your way to crafting a landing page that looks great and converts like crazy.
FAQs
1. Who makes the best landing pages?
Companies like Unbounce, Leadpages, and Instapage are known for creating high-converting landing pages.
2. What is the best form for a landing page?
A simple, easy-to-fill form with essential fields like name, email, and a call-to-action is generally considered best for landing pages.
3. Is Wix a good landing page builder?
Wix is a versatile platform that can be used for landing pages, although it may lack some advanced features offered by specialized landing page builders.
4. What is a good price for a landing page?
The cost can vary widely, from free DIY options to hundreds or even thousands of dollars for professionally designed pages.
5. Are landing pages profitable?
When well-designed and targeted, landing pages can be highly profitable as they are optimized for conversions.
6. What is the cheapest way to create a landing page?
Using free versions of landing page builders like Wix or WordPress with a free theme can be the cheapest way.
7. Can I build a landing page for free?
Yes, platforms like Wix and WordPress offer free options to build landing pages.
8. Is Google Sites good for landing pages?
Google Sites is simple and free but lacks the advanced features and customization options of specialized landing page builders.
9. Can I create a landing page without hosting?
Some platforms offer hosted landing pages, eliminating the need for separate hosting.
10. Do landing pages need domains?
While it's beneficial to have a custom domain for branding, some platforms offer subdomains you can use for free.
11. Can I have both a landing page and a website?
Yes, a landing page can be part of a larger website or stand alone.
12. Can landing pages replace a website?
Landing pages are focused on specific actions and generally can't replace a full website that provides comprehensive information.
13. Do landing pages have SEO?
Landing pages can be optimized for SEO, although their primary focus is usually on conversions.
14. Do landing pages improve SEO?
Well-optimized landing pages can contribute to your site's overall SEO by increasing traffic and engagement.
15. How do I publish a landing page without a website?
Platforms like Unbounce and Leadpages allow you to create and host landing pages without needing a separate website.
16. Can I host my own landing page?
Yes, if you have the technical skills, you can host your landing page on your own server.
17. Can I create my own landing page?
Yes, various platforms and templates allow you to create your own landing pages without requiring coding skills.
18. Can you sell on a landing page?
Yes, landing pages can be designed with e-commerce functionalities to facilitate direct sales.
Related Articles:


Affiliate Disclosure:
I earn from qualifying purchases. This means that when you click on certain links on our website and purchase through Amazon, we may receive a small commission at no additional cost.